Bespoke slate signs with a modern twist, painted in large range of colours with engraved lettering


Site Search
Contempory Painted Slate Signs



These slate house signs are made in reverse - we coat the slate surface with a hard wearing two pack paint. We then sandblast or laser the lettering which is left unpainted. The result is really effective - an unusual slate house sign with a modern feel. We can also laser fine detail into the sign and you can choose detailed borders or images and have very fine text.





Lots of Lovely Colours

Black, white,pale green F&B Lichen and light grey F&B purbeck stone are the standard paint colours for painted slate signs. There is also cream, Farrow and Ball - Vert de terre, Hardwick white, Stone Blue, Lamproom Grey and Dulux monarch, along with many others others available at £5 per order.
See our Stock Colours.

We can match other Farrow & Ball, Dulux and RAL colours but there would be extra cost.

Our paint is a two component polyurethane paint which is much more durable than standard brush-on paints. It is not only much tougher and longer lasting, but is also more resilient to chemicals.

12mm
Slate


225mm
9 inches

300mm
12 inches

450mm
18 inches

600mm
24 inches

75mm

£44.85
£49.95
£60.20
£70.40
100mm

£49.15
£55.40
£67.85
£80.30
150mm

£57.75
£66.24
£83.15
£99.95
225mm

£68.95
£80.25
£102
£125
300mm

£80.25
£94.30
£122
£149

The slate is sanded to a very smooth finish and the front and sides are painted. The carved lettering is just left the colour of natural slate.

We suggest using an adhesive to fix these signs as holes might spoil the overall look.
The prices below include VAT For cheaper slate signs - check out the standard range

20 mm
Slate

300mm
12"

450mm
18"

600mm
24"

750mm
30"

900mm
36"

150 mm

£76
£97
£118
£140
£161
225 mm

£94
£122
£149
£178
£207
300mm

£111
£146
£182
£217
£252
400mm

£135
£179
£224
£269
£313
600mm

£182
£245
£308
£372
£413

Simple Shaping / 45 degree bevel £7.95
The above prices include 6 letters - extra letters - 55p per letter.
Minimum letter size 1" 25mm

For More Ideas - Visit the Gallery


Borders
We can add a line border with indented or square corners to your slate sign at a cost of £6.95 for most house signs.
A decorative borders is for a house sign is £10.95 Borders are more expensive for larger slate signs due to the time it takes to sandblast the slate.


Border Costs

Circumference (length around outside of sign)

< 1.5m

Between
1.5m - 2.1m

Over 2.1m

Line border

£6.95

£12.45

£19.65

Decorative border

£10.95

£17.65

£26.95
Images
We can include silhouette or line drawing style images on these slate signs. We have a selection CLICK HERE - or you can send in your own artwork. Click here for more information about images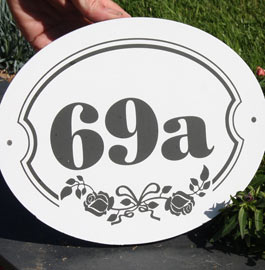 Place your Order
Use the Online Shop


Its easy to order online. Pay by Card, Cheque Online Banking or via Amazon

By phone - 01769 561355 / 561314
Monday - Friday 9.00am - 5.00pm
By email - sales@sign-maker.net
Print an Order Form
Easy Pay Tell us what you want - we will send you the price with an Easy Pay link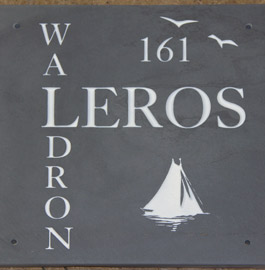 Most of our signs are sent by courier and a signature will be needed. We can send the parcel to your works address.

Didn't find what you were looking for?
Click on full colour
Site Map
or use search bar above.
Made in the UK. Our team at The Sign Maker looks forward to helping you with your slate house sign.