High quality slate house signs to suit all budgets. Huge amount of choice in size, fonts and images
CLICK ON THE IMAGES FOR MORE INFORMATION
Slate House Signs -
Standard Sizes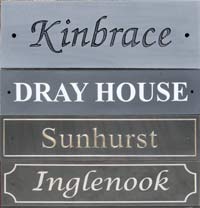 Standard sizes are 100mm, 150mm and 225mm in height.
Slate House Signs -
Made to Measure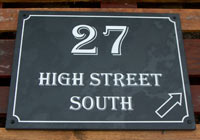 All our slate can be cut to any size. With the help of our designers, the various fonts, borders and images you can create a sign house signwhich is absolutely unique. The slate is sanded to a smooth finish.
Slate Home Name Plates -
Oval & Round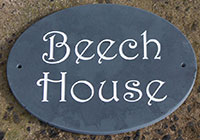 Round and oval slate signs are slightly more expensive than straight edged signs due to the extra cutting costs involved. However they can look very effective with the right font and an interesting graphic. Sizes up to 600mm
Slate Home Name Plates -
Coloured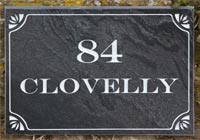 If you are looking for something a little different why not use the coloured slate. We have a range of colours including Brazilian green, silver shine, ocean, copper and silver nickel. Sizes up to 295mm x 575mm are available.
The large signage is cut from slate which is between 20-50mm thick. Sizes can be up to 1000mm x 2000mm. Unpainted lettering can be as small as 15mm. Painted lettering along with raised and unpainted must be at least 25mm high.
House Numbers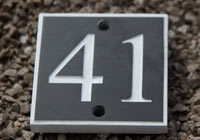 Slate house numbers don't need to be boring! We create thousands of numbers each year and everyone is different. We cut to size and use your choice of font along with a border or image if required. Lots of paint colours too.
Normally the lettering is sand-blasted into the stone. We can however do the process in reverse and sand blast away the background.
This process can be done with all the sizes and types, but is not quite as successful with the coloured.
Celtic House Signs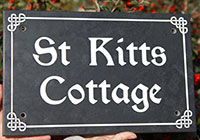 There is a range of celtic fonts along with celtic borders and symbols which can be used to create individual celtic style signs.
As we are sand blasting into the stone please choose the bolder borders and symbols.
LETTERS - Font and Colour

The letters are painted gold, white, black, Farrow & Ball colour - Purbeck Stone (light grey) and Lichen (pale green) as standard but we have a range of other colours. Another technique is to blast the background away and leave the lettering raised and unpainted. When leaving letters raised we must use bold fonts without any fine line. We can also paint the background behind the raised letters. Click here for ideas

For a selection of fonts - Click here. Letter size is normally adjusted to suit the sign, but if you have something particular in mind - just let us know.

Images

We can include simple images on the signs.

We have a large selection Click Here of standard images available at a cost of £12.50 per image under 100mm. You can also send in you own artwork - Click Here. We can use your own artwork at a cost of £34.50.
GALLERY OF SLATE SIGNS
If you would like to see more of our slate house signs -
Click here for the gallery pages
.
For even more ideas have a look at
our Pinterest Board
Lakeland Slate Sign

As an alternative to the standard grey slate we have Lakeland Green Slate which is quarried from a tiny quarry in the Lake District. This is a beautiful slate with lovely markings which makes it quite unique. It is much harder than the standard grey slate too, which means it will be even more durable. It is available in the 20mm thickness and can be cut to any size. As you would expect it is more expensive but to many people it is well worth it. For more information - Click Here