Site Search
Rainbow Sandstone House Signs



These stone house signs are made from 20mm rainbow sandstone. Each one is completely unique with no two pieces of stone being the same. Every sandstone house sign has a different pattern on it.

As always you choose the font to use and the layout of the sign. As for letter colour the most popular are black or white. However we do have a large range of colour choices including gold and silver. The prices include 6 letters - extra letters are £1.10 per letter. We recommend letters to be no smaller than 25mm

The sign can be down cut to a smaller size if required.

20 mm

290mm
12"

400mm
18"

600mm
24"

750mm
30"

900mm
36"

70 mm
£63
£74
N/A
N/A
N/A
145 mm

£80
£99
£135
N/A
N/A
290 mm

£110
£140
£173
£200
£235
450mm

£142
£185
£200
£272
£315
600mm

£173
£200
£275
£340
£350





BORDERS
We can add a line border with indented or square corners to your slate sign at a cost of £9.95 for most standard size house signs.

Another interesting technique is the border in relief where the slate around the outside of the sign is blasted away leaving the required shape in the middle.
The cost of a border in relief is £11.95



Border Costs

Circumference (length around outside of sign)

< 1m

Between
1m - 2m

Over 2m

Line border

£9.95

£25.65

N/A

Border in relief

£11.95

£25.65

£35.95

Decorative border

£15.95

£25.65

£35.95
Holes
We can drill the holes for you @ £1.10 per standard hole. £1.95 per countersunk hole. 2 holes are ideal on the 70mm high slate and 4 holes on larger stone. If you do decide to use one of the many adhesives now available we would suggest additional support is used for the largest signs. We can recommend CT1 all purpose adhesive This can hold signs up to 10kg


Simple Images
We can include simple pictures on any of the sandstone signs. We have a selection CLICK HERE available for £12.50- or you can send in your own artwork, which we can use for £34.50- It should be a silhouette style image without any very fine lines.
Place your Order
Use the Online Shop


Its easy - Pay by Card, Cheque or Online Banking

Signs - 01769 561355
Memorials - 01769 618585


By email - sales.signmaker@gmail.com
Design Your Own Sign / Plaque
.You create the design - we send you a quote


Easy Pay Tell us what you want - we will send you the price with an Easy Pay link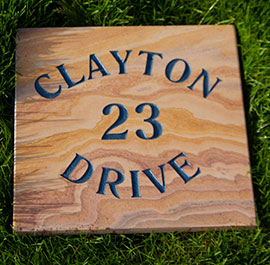 Most of our signs are sent by courier and a signature will be needed. We can send the parcel to your works address.
Didn't find what you were looking for?
Click on full colour
Site Map
or use search bar above.
Made in the UK. Our team at The Sign Maker looks forward to helping you with your sandstone house sign.
.