Bespoke made to measure slate home signs and slate address signs


Site Search
Bespoke Slate Home Signs & Slate Address Signs
| | |
| --- | --- |
| The slate home signs and slate business signage made with natural slate with smooth, but not highly polished surface. This shows the markings and grain of this lovely material - each piece is different. We cut our slate onsite to any size you require. We can also polish both sides for double sided slate signs. Our local blacksmith has made some special wrought iron hangers for the doubled sided slate signs. See Fittings We also make wooden posts with hanging arms as well as Wrought Iron Brackets Click Here. As for letter colour - we have far more choices along with the standard white. Black is popular along Farrow & Ball colour Lichen which is light green, or F&B Purbeck Stone which is a very light grey. Click here to see colours. Memorial gold or silver also available @ £10. Memorial gold looks very similar to gold leaf. | |



For our made to measure home signs and slate address signs we use slate which is 12mm or 20mm thick. This can be down cut to any size.

For thicker slate signs (30 - 50mm) or larger signs up to 600mm x 2100mm please CLICK HERE.

12mm

225mm
9 inches

300mm
12 inches

450mm
18 inches

600mm
24 inches

75mm

£38.10
£42.54
£51.18
£59.81
100mm

£41.63
£46.81
£57.18
£67.54
150mm

£48.63
£55.59
£69.51
£83.43
225mm

£57.81
£66.99
£85.34
£104
300mm

£66.99
£78.39
£101
£124
The prices below
include
VAT
For cheaper slate signs - check out the standard range
20 mm

300mm
12"

450mm
18"

600mm
24"

750mm
30"

900mm
36"

150 mm

£74
£93
£112
£131
£151
225 mm

£88
£112
£137
£161
£185
300mm

£103
£132
£161
£190
£219
400mm

£122
£158
£194
£229
£265
600mm

£161
£210
£258
£307
£338

For Larger Slate Signs - Click Here
| | |
| --- | --- |
| For a more contemporary look we can reverse the painting process - first painting the slate and then lasering or sand blasting into the slate. Lasering can is useful in that it can be used for fine detail, sand blasting engraves more deeply. We will make it as you want it. | |

This 3D effect slate sign looks really amazing. We can only achieve this with
very bold fonts

Lettering is Raised.

Click here for Prices





This slate sign has a drop shadow effect. Again we must use a bold font.


Lettering is engraved. Extra £15 for second paint colour

.






This slate has been oiled for a darker colour

Simple Shaping / 45 degree bevel £7.95, Drilled holes £1.10 per hole
The above prices include 6 letters - extra letters - £1.10 Minimum letter size 1" 25mm
Smaller letters, down to 15mm are possible, if left unpainted - cost 55p per letter.
For smaller painted letters you can use slate corian - click here

For More Ideas - Visit the Gallery We also make oak posts to mount the slate signs on - Click Here


Edges are all lightly beveled but we can router a 45 degree bevel @ £7.95 as shown above



450x225mm slate sign on 3"x3" oak posts ref 1401.ss.043
| | |
| --- | --- |
| Raised slate with square corner border Font - Bookman Old Style | Font - Kelmscot Regular, Letters - white, Raised & unpainted border - CF039 |
BORDERS
We can add a line border with indented or square corners to your slate sign at a cost of £6.95 for most home signs.

Another interesting technique is the border in relief where the slate around the outside of the sign is blasted away leaving the required shape in the middle.
The cost of a border in relief is £8.95 Decorative borders £10.95

When the letters are raised and unpainted there is no extra cost for surrounding or line borders. We can use decorative borders for raised and unpainted. Borders are more expensive for larger slate signs due to the time it takes to sandblast the stone - see below.


Font Bookman DS CELTIC - Border Celtic 37
This sign was quite large - 350mm x 500mm - still wet from wet sanding
Border Costs

Circumference (length around outside of sign)

< 1.5m

Between
1.5m - 2.1m

Over 2.1m

Line border

£6.95

£12.45

£19.65

Border in relief

£8.95

£16.65

£25.95

Decorative border

£10.95

£17.65

£26.95
HOLES
It is difficult to drill holes into slate as it requires plenty of water to keep the slate cool. We can drill the holes for you @ £1.10 per standard hole. £1.95 per countersunk hole. 2 holes are ideal on the 100mm high slate and 4 holes on larger slates.
If you do decide to use one of the many adhesives now available we would suggest additional support is used for the largest signs. We can recommend
CT1 all purpose adhesive
This can hold signs up to 10kg

One lines of text. Font Gate-B Size 150 x 500mm


Font - Times New Roman. This slate was cut
to just 3 inches high with 2 inch letters. It
was made to fit on a gate. 2 holes drilled.
Upper/ lower case - font Bitstream Argus BT Bold , Letters raised & unpainted with surrounding raised border.
Simple Images
We can include simple pictures on any of the slate signs. We have a selection CLICK HERE - or you can send in your own artwork - It should be a silhouette style image without any very fine lines.
Detailed Images
We have developed a new method for using detailed images on slate signs which looks very effective indeed.
We first inlay the colour panel which can be any shape - oval, round, square, rectangular or anything else. We then use one of our lasers to laser-etch in the fine detail. The result looks amazing. The cost is just £10 more than a normal image.




Close-up showing the inlaid panel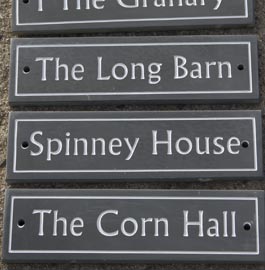 Place your Order
Use the Online Shop


Its easy to order online. Pay by Card, Cheque Online Banking or via Amazon

By phone - 01769 561355 / 561314
Monday - Friday 9.00am - 5.00pm
By email - sales@sign-maker.net
Print an Order Form
Easy Pay Tell us what you want - we will send you the price with an Easy Pay link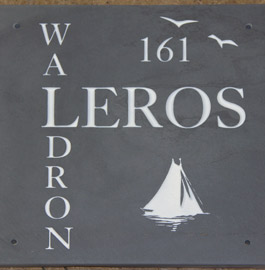 Most of our signs are sent by courier and a signature will be needed. We can send the parcel to your works address.

Didn't find what you were looking for?
Click on full colour
Site Map
or use search bar above.
Made in the UK. Our team at The Sign Maker looks forward to helping you with your slate sign.