Site Search
Oak Posts with Support Bar



Granite and slate signs are heavy, so to give them extra support we can supply a support bar which is fitted to the wooden posts under the stone sign.

This can be fixed with hidden fixings and sent fully assembled. Alternatively it can be sent ready for fixing which is a cheaper carriage option.

Here we have shown oak posts but we can make painted posts and support bars in softwood, oak or a cheaper hardwood.

We normally fix the sign to the posts with coach bolts which can be painted if required.



Oak Post with the Stone Sign Inset


Another option is to inset the slate or granite sign into the posts.

The sign to the left was a 20mm slate sign. The sign was inset into the post and fixed with a strong adhesive. We used CT1 adhesive or we can drill holes and send out with coach bolts.

Total cost for insetting the stone and suppling fixings:-
Signs up to 300mm high - £30. Signs over 300mm - £50

These are sent out unassembled.

Click Here for Wooden Post Prices or


Round Beaded Edging

Instead of the standard square edge on the post our carpenters can router a round beaded edge. This can be done on any of the hardwood posts - Oak, Iroko or Idigbo.

It is very elegant and really sets the wooden posts apart. The cost is £12 per post.

Standard Posts Top


Gothic Posts Top

Shaped Post Top

Post with Oak Post Cap

Post Tops - There are various options for tops of the wooden posts. They can be used for both hardwood and softwood. There is no extra charge for the standard post top. The shaped top and the oak post cap are available @ £5 per post.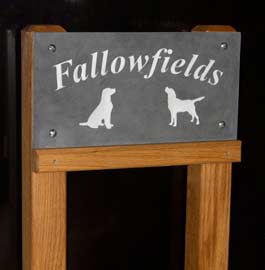 Place your Order
Online Shopping Cart


Its easy to order online. Pay by Card, Cheque or Online Banking

Signs - 01769 561355
Memorials - 01769 618585
Wheel Covers - 01769 561314


By email - sales@sign-maker.net
Design Your Own Sign / Plaque
.You create the design - we send you a quote
Easy Pay Tell us what you want - we will send you the price with an Easy Pay link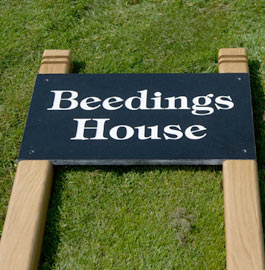 Most of our signs are sent by courier and a signature will be needed. We can send the parcel to your works address.
Didn't find what you were looking for?
Click on full colour
Site Map
or use search bar above.
Our team at The Sign Maker looks forward to helping you with your slate, granite and stone signs with wooden posts
.