Site Search
Sign Boards -
Big Discounts
-
Ask for a quote


3 mm Aluminium Composite is composed of a thermoplastic polyethylene core sandwiched between two aluminium alloy sheets which produces high quality boards - ideal for business signs. Available in many interesting finishes, Signs made with cut vinyl lettering have a longer lifespan than full colour printing.
Price Guide - 600mm x 400mm (A2 approx) - from £66.24


These are strong, durable yet light weight. Ideal for any good quality signage. Full colour printing with the choice of scuff resistant matt or longer lasting gloss finish.
Price Guide - 600mm x 400mm (A2 approx) - from £74.46

These sign boards are manufactured from 3mm solid aluminium panels which are coated grey to the rear to combat the staining of walls and fascias. Also available with channels for posts, as tray signs and finger posts. Lots of colour options Very strong and durable.
Price Guide - 600mm x 400mm (A2 approx) - from £79.00
| | |
| --- | --- |
| | A range of printed signs which are superior to most other full colour sign boards. They are comarable to vitrous enamel at considerably less cost. The colour quality is superb with a long term resistance to fading. They are printed directly onto aluminium and then encapsulated with a heat treated coating which is very robust, easy to clean and has anti-vandal and graffiti resistant properties. They are available as flat plate, with fixing channels and posts and as tray signs. Reflective and photoluminescent signs also available. Price Guide - 600mm x 400mm (A2 approx) - from £183 |
| | | |
| --- | --- | --- |
| | If you are looking for a more traditional looking sign with painted letters, then these sign boards may be your answer. The board is a wood based board made using a high performance resin. It is very stable, strong, durable and weatherproof. It is sprayed using is a two pack polyurethane paint which is much more durable than standard brush-on paints. Price Guide - 600 x 400mm - from £96.84 | |
| | | |
| --- | --- | --- |
| | Fibreglass is ideal for moulded sign boards. We have two ranges - HG range in 16 colours and the SM range which can be made in any RAL colour. We also have Fibreglass Pub Signs . Fibreglass is light, extremely strong and resistant to vandalism & weathering. Price Guide - 600mm x 400mm (A2 approx) - from £107.83 | |

These boards are durable, lightweight, extremely flat and rigid and do not corrode. The engineering grade reflective lettering is applied to the boards once you have chosen the font, board size and colour. These signs are easily spotted day or night.
Price Guide - 600mm x 400mm (A2 approx) - from £90.94

These house signs are excellent value for money as well as being low maintenance and long lasting. They are made from aluminium composite - a very smart material which is light weight, rigid and durable They are available in a range of sizes, shapes and colours.

The tough vinyl lettering is available in many colours. We also make Reflective House Signs.

| | |
| --- | --- |
| | These wooden framed signs are beautiful as entrance signs for large houses, farm or business.  Using a combination of traditional oak with modern aluminium composite we have created an elegant sign to grace any entrance. There are four standard sizes but as always we make them to any size and can use other materials for the panels. Available blank for other sign makers. |

These top quality wooden framed signs with painted lettering are designed to last. They feel really solid and have a substancial weight to them. They can be made single sided or double sided. The style is very traditional but we do use the latest panel material and paint system, along with a beautiful oak frame. The inner panel is made from Tricoya board. It is very stable, strong, durable and weatherproof and comes with a 50 year guarantee.
Price Guide - 600mm x 450mm - from £159.30
| | |
| --- | --- |
| | Signage made with solid aluminium plate but with channels fitted on the reverse. They can be supplied with fixings to attach to round posts, square posts, farm gates or other tubing. Aluminium posts can also be supplied either grey or in matching colours. |
| | |
| --- | --- |
| | These are nomally mounted at a 45 degree angle and usually display information panels. They are ideal for adults, children and those in wheelchairs. We can make the timbers in our workshops so these can be made to any size. We also have some tough steel lecterns in various sizes |

This tough material, designed as a commercial signage board, also makes excellent large house signs, entrance signs or information signage. It is light weight, yet hard and resilient, as well as being environmentally friendly. The surface is bright white new PVC which covers a thick core of black recycled PVC. The material is 10mm thick and can be cut to any shape.
Price Guide - 600mm x 400mm (A2 approx) - from £76.20
| | | |
| --- | --- | --- |
| | We also sell a good range of outdoor notice boards & poster holders which are all secure and waterproof. These include shaped notice boards and menu cases. Also indoor notice boards, A-Boards , Black Boards and White Boards . | |

This is the cheapest sign material we have. The artwork is printed directly onto the PVC which is then laminated for a longer lifespan. It can be full colour, two colour or single colour. Suitable for indoors or outdoors. Fade resistant and waterproof.
Price Guide - 600mm x 400mm (A2 approx) - £45


These sign boards are also very good value and it is available in two thicknesses - 5mm and 10mm. They are both available in white but the 5mm can also be black, blue, red, yellow or green.
Price Guide - 600mm x 400mm (A2 approx) - from £55.15

| | | |
| --- | --- | --- |
| | We have a good range of fittings, screws, brackets, coverheads, stand-offs etc in various materials to suit all our signs | |


Place your Order
Online Shopping Cart


Its easy to order online. Pay by Card, Cheque Online Banking or via Amazon

By phone - 01769 561355 / 561314
Monday - Friday 9.00am - 5.00pm
By email - sales@sign-maker.net
Design Your Own Sign / Plaque
.You create the design - we send you a quote
Easy Pay Tell us what you want - we will send you the price with an Easy Pay link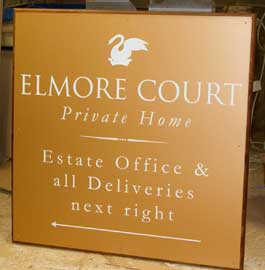 Didn't find what you were looking for?
Click on full colour
Site Map
or use search bar above.
Our team at The Sign Maker looks forward to helping you with your sign boards.