Site Search
Purbeck Stone Signs

We have found that many of our customers now prefer to have their stone house sign or memorial made with stone quarried in the UK, rather than one which has been imported from China or India.

Purbeck stone is a very durable and hard wearing stone quarried in Dorset. It has long been used in churches and cathedrals. It was formed in the Jurassic/ Cretaceous era. Each bed of Purbeck stone varies in colour and has its own range of fossils within it.

The stone is cut for us to a thickness of 30mm. Other sizes can be quoted for. The surface is honed to smooth finish. The edges can be square or chamfered.
The lettering can be carved into the sign using any of our fonts. The letters are then painted to a colour of your choice or left unpainted.

As standard we use black, white, ivory, gold and silver, but we also have a number of other colours. Brown and dark green actually look lovely on the cream stone. Click here for other paint colours.
Costings for Purbeck Stone Signs and Memorials

Height
Length
Thickness
Price
225mm
450mm
30mm
£288

I

225mm
575mm
30mm
£354

K

300mm
450mm
30mm
£361

M

300mm
575mm
30mm
£444

N

300mm
750mm
30mm
£560

O

300mm
900mm
30mm
£646

P

450mm
575mm
30mm
£624

P

450mm
750mm
30mm
£792

P

450mm
900mm
30mm
£935

P

375mm
300mm
50mm
£475

N

400mm
400mm
50mm
£599

M

575mm
300mm
50mm
£444

M
The prices above include 6 letters. Extra letters are £1.10 each for the next 19 letters and 55p per letter thereafter.

The sizes shown above are the standard sizes that are cut for us in the quarry. We can cut down the stone for smaller sizes or order in special sizes.
The letter shown after the price is the shipping charge
Images
We can included images as long as there are no fine lines or tones. There are thousands to choose from - Click Here The cost depends on the size. Up to 100mm £12.50, 100mm - 200mm £17.50, 200mm - 300mm £23, over 300mm £28.00. If you send in your own image there will be an artwork charge of £34.50
Holes or Hidden Fixings
Holes can be drilled @ £1.10 per standard hole or £1.95 per countersunk hole. We also sell a very strong adhesive called Grab and Bond. Although Grab and Bond is meant to hold a sign we would also be inclined to add an extra support rail or use use some hidden fixings which are available @ £4.15 each. These are shown on a granite sign in the photo to the right.
Specials
As well as our standard signage we can quote for some more unusual purbeck stone signs and memorials. Just let us know what you are looking for. We can have can use rough edged stone, shaped stone and thicker stone signs and memorials.
As an example the Yelland Farm sign to the right. The size is 900 x600x150mm. It has a honed face and a rustic border. Postage Rate P
NB These do take at least 6 weeks for the quarry to cut. You will also need a pallet truck or similar to move them.
We do have black or grey granite boulders which are held in stock - click here
The stone signs above were left unpainted. However if you want the your stone sign to really stand out we think painted letters are the best option.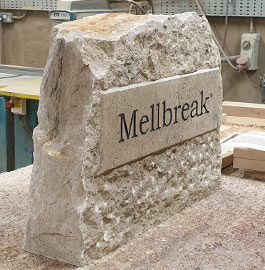 Place your Order
Use the Online Shop


Its easy to order online. Pay by Card, Cheque or by Online Banking BACs

By phone - 01769 561355
Monday - Friday 9.00am - 4.45pm
By email - sales.signmaker@gmail.com
Design Your Own Sign
.You create the design - we send you a quote
Easy Pay Tell us what you want - we will send you the price with an Easy Pay link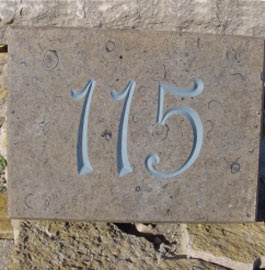 Most of our signs are sent by courier and a signature will be needed. We can send the parcel to your works address..

Didn't find what you were looking for?
Click on full colour
Site Map
or use search bar above.
Made in the UK. Our team at The Sign Maker looks forward to helping you with your Purbeck Stone sign.