Site Search
Wooden Finger Posts - Oak or Iroko





Square finger posts with text on posts and arms.




Octagonal finger post - extra £25




The ornate Windsor finger post - extra £95


Natural Wood Post and Arms

Our carpenters will make the wooden finger posts to your requirements. The timbers we usually use are oak or Iroko wood. Oak is normally treated with a commercial long life satin varnish, Iroko wood with Devon oil.

The Windsor Post - For an extra special sign we can make the 95mm posts more ornate with interesting shaping, moldings and black painted post bottom

The fingers are normally 100mm or 150mm high. The length is 600mm, 50mm of which is morticed into the post. The lettering is carved into both sides of the finger and painted. You choose the font.

Posts can be 70mm x 70mm or 95mm x 95mm. The larger posts can be made octagonal. Letters can be engraved into the post @ £3.25 per letter. Standard images @ £12.50 per image.

We do assume the finger posts are all double sided. If however you do only want the text on one side - let us know and we will place the fixing holes on the reverse of the post.
Painted Oak Post and Arms

The post and fingers can also be painted. We normally use oak for the post. If you are looking for a cheaper post we could use Idigbo. This is a lighter weight hardwood but not as durable as oak.

The painted fingers are normally made from Sapele timber or 18mm Tricoya wood based board.

Paint Colours

We have a large range of paint colours including many Farrow and Ball matches. Black and white are standard colours. Other stock colours are £5.
Click here to see all the colours

Images and Post Tops

Images can be included on the signs. The post top can also be made in a different way - ask for a quote
Standard Prices
Includes VAT
2.3m Natural Wood Posts
2.3m Painted Oak Posts
70x70mm post
95x95mm post
70x70mm post Accoya Finger
70x70mm post Tricoya Finger
95x95mm post
Accoya Finger
95x95mm post Tricoya Finger
1 x 100mm Finger
£259
£354
£295
£249
£398
£323
1 x 150mm Finger
£280
£375
£317
£257
£420
£360
2 x 100mm Fingers
£324
£437
£382
£297
£485
£400
2 x 150mm Fingers
£384
£479
£427
£314
£530
£417
3 x 100mm Fingers
£425
£520
£469
£345
£572
£448
3 x 150mm Fingers
£488
£583
£537
£371
£640
£474
4 x 100mm Fingers
£508
£603
£556
£393
£659
£496
4 x 150mm Fingers
£592
£687
£647
£428
£750
£531
5 x 100mm Fingers
£591
£686
£643
£441
£746
£544
5 x 150mm Fingers
£696
£791
£757
£485
£860
£588
6 x 100mm Fingers
£674
£769
£730
£489
£833
£592
6 x 150mm Fingers
£800
£895
£867
£542
£970
£645
7 x 100mm Fingers
£757
£852
£817
£537
£920
£640
7 x 150mm Fingers
£904
£999
£977
£599
£1080
£702
Extra for octagonal
N/A
£25
N/A
N/A
£25
£25
Extra for 3m Post
£40
£70
£50
£50
£80
£80
Extra for Windsor Style Post
N/A
£95
N/A
N/A
£95
£95
Normally posts come ready to be buried into the soil. (at least 450mm) However we are sometimes asked for free standing fingerposts. Our carpenter can created a free standing base suitable for signs up to 2.3m for £145 Click here
Round Beaded Edging

Instead of the standard square edge on the post our carpenters can router a round beaded edge. This can be done on any of the hardwood posts - Oak, Iroko or Idigbo. It is very elegant and really sets the wooden posts apart. The cost is £12 per post.

Standard Posts Top

Gothic Posts Top

Shaped Post Top

Post with Oak Post Cap

Post Tops - There are various options for tops of the wooden posts. They can be used for both hardwood and softwood. There is no extra charge for the standard post top. The shaped top and the oak post cap are available @ £5 per post.
Aluminium Finger Posts - Flat Plate


Arms
Suggested
Post length
Cost
Excl VAT
Reflective
Lettering
1 arm
3m

£211

£217

2 arms
3m

£247

£ 261

3 arms
3.3m

£ 310

£ 330

4 arms
3.3m

£ 348

£ 360

4 arms
3.6m

£ 359

£ 384

5 arms
3.6m

£ 396

£ 431

6 arms
4m

£ 441

£ 482

7 arms
4m

£ 455

£ 504

8 arms
4.5m

£529

£ 593

For more information - Click Here



We can make these to any size but we do have a range of standard sizes. The wording can be printed andlaminated for longer life, alternatively it can be made with long lasting cut vinyl on a standard background colour. Sold with or without the posts. Three arrow signs from just £89

For more information - Click Here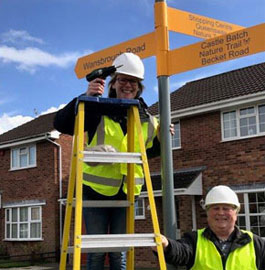 Place your Order
Online Shopping Cart


Its easy to order online. Pay by Card, Cheque Online Banking or via Amazon

By phone - 01769 561355 / 561314
Monday - Friday 9.00am - 5.00pm
By email - sales@sign-maker.net
Design Your Own Sign / Plaque
.You create the design - we send you a quote
Easy Pay Tell us what you want - we will send you the price with an Easy Pay link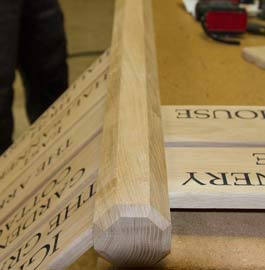 Most of our signs are sent by courier and a signature will be needed. We can send the parcel to your works address.

Didn't find what you were looking for?
Click on full colour
Site Map
or use search bar above.
Our team at The Sign Maker looks forward to helping you with your wooden & aluminium finger posts