There are eighteen standard motifs each of which is hand painted. You can change the colours as you want. In addition the artist can paint extra details around the motif, as per your instructions, making the design absolutely unique.
Alternatively you can choose not to have a motif at all and just have a design painted
onto the sign.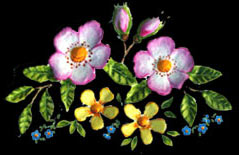 The Bluebell Cottage sign on the right was created by painting extra flowers around this cast motif.