Site Search
Value House Signs & Numbers

These modern house signs and house numbers are excellent value for money. They are made from two layers of acrylic which are sandwiched together usings the black stand away fittings. The sign is held about 25mm away from the wall it is fixed upon(must be a solid wall)

A laser is used to cut the letters or numbers right through white matt acrylic. This is then placed over and fixed to the gloss black using the pre-drilled fixing holes. The result is stunning - a very modern, two layered house sign or number.
Size
Letters per line
Price inc VAT
P&P Bracket
150mm x 100mm
Up to 3 numbers (ACLC03)
£15.95
A
250mm x 165mm
Max 2 lines. (ACLC04)
Max 12 letters or spaces per line.
£29.95
B
350mm x 230mm
Max 3 lines. (ACLC05)
Max 14 letters or spaces per line.
£36.95
B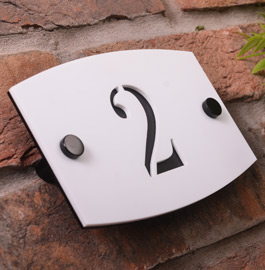 Place your Order
Use the Online Shop


Its easy to order online. Pay by Card, Cheque or by Online Banking BACs

By phone - 01769 561355
Monday - Friday 9.00am - 4.45pm
By email - sales.signmaker@gmail.com
Design Your Own Sign
.You create the design - we send you a quote
Easy Pay Tell us what you want - we will send you the price with an Easy Pay link

Most of our signs are sent by courier and a signature will be needed. We can send the parcel to your works address..

Didn't find what you were looking for?
Click on full colour
Site Map
or use search bar above.
Made in the UK. Our team at The Sign Maker looks forward to helping you with your house sign.