Our ladder signs are ideal for entrance signs. As standard they can have 1, 2 or 3 signs on the posts. However we can make them just the way you want and there are lots of choices. There is natural oak or iroko wood with painted carved letters, or painted ladder signs in many colours.
Most of our painted signs are made in oak but there are other post options. Oak is the heavy and longest lasting, Idigbo is a lighter weight moderately durable hardwood. Softwood is the cheapest option.
The beautiful grain of the oak does remain visible beneath the paint. If you prefer not to see the grain we suggest you have Tricoya board. This is a tough and weatherproof wood based board. Accoya wood is another option and is priced as oak. Extensive testing has shown that paints can last up to three times as long on Accoya than on other timbers.
For Painted Entrance Signs we use is a two component polyurethane paint which is much more durable than standard brush on paints. It is not only much tougher and longer lasting, but is also more resilient to chemicals.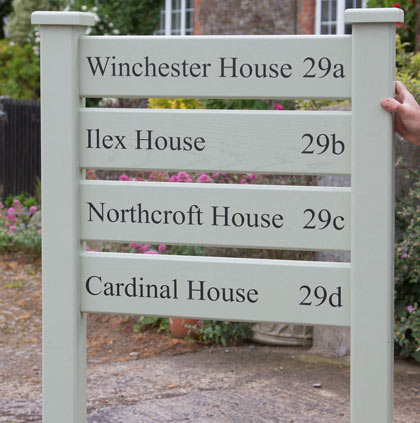 Ladder Sign on Posts with Post Caps . Colour - Vert de Terre
Natural Oak Entrance Signs with carved and painted letters are first treated with a wood preservative and then varnished with a tough satin finish commercial varnish. Signs with white lettering are treated with Osmo Oil. Iroko signs are treated with Devon Oil

Standard colours for signs or lettering are black and white, along with a grey - F&B Purbeck Stone and a pale green F&B Lichen as standard. Cream, heritage green and Farrow & Ball Estate No.84 green blue, Stiffkey Blue, French Grey and more at £5 per order. See all our Stock Colours.
For colours we don't stock the cost is £65 per colour per order. We can also match most Farrow & Ball colours.

Lettering can be in any of our
huge range of fonts.
Standard sizes are list below but we can quote for other sizes. Shaped tops can also be made in any of the sizes - just ask for a quote.
For extra protection we can coat with high gloss Coach- Kote - a clear version of the coach enamel used on the queens carriages at Buckingham Palace - ask for a quote.