Site Search
Anodised Aluminium Signs Numbers & Plaques



These plaques are ideal for small maintenance free house signs and numbers. They are made from 1.5mm anodised aluminium. The letters are engraved through the black layer of laminate to show the white/silver colour underneath. We can used any of our line drawings and decorative borders on this type of sign.

Backing boards, if required are available in a number of different types of wood - Oak, Sapele (similar to mahogany) and Iroko (similar to teak). If you want a specific wood - just tell us.

Black or Dark Bronze



Prices without backing board

Aluminium
Sizes

75mm


100mm


150mm

225mm


300mm

50mm - 2"


£22.35

£25.55

£28.60

£31.45

£35.45

75mm - 3"


£25.70

£27.95

£30.15

£34.65

£37.95

100mm - 4"


£27.95

£29.25

£32.90

£36.70

£40.50

150mm - 6"


£30.15

£32.90

£36.00

£40.75

£45.50

Discounts for Ordering Online

Prices with backing board

Aluminium
Sizes

75mm


100mm


150mm

225mm


300mm

50mm - 2"


£30.35

£35.55

£41.12

£46.35

£52.75

75mm - 3"


£33.70

£37.95

£42.75

£49.55

£55.15

100mm - 4"


£37.95

£40.25

£46.90

£53.50

£60.2

150mm - 6"


£42.75

£46.90

£52.60

£61.35

£70.20

Discounts for Ordering Online







Maintenance Free
Detailed Designs

Font - Trajb
Border - DC165

Font - Stuyed
Border - B323

---

Red, Blue and Green

As with the anodised plaques, these are also maintenance free
but they have a tougher finish which has been baked rather than the powder coated.


Prices without backing board

Aluminium
Sizes

75mm


100mm


150mm

225mm


300mm

50mm - 2"


£25.29

£26.52

£29.00

£32.71

£35.79

75mm - 3"


£27.16

£29.00

£32.71

£38.28

£46.96

100mm - 4"


£29.00

£31.61

£36.41

£43.84

£55.11

150mm - 6"


£32.71

£36.41

£43.84

£50.37

£68.56

Discounts for Ordering Online

Prices with backing board

Aluminium
Sizes

75mm


100mm


150mm

225mm


300mm

50mm - 2"


£30.19

£32.31

£36.72

£43.04

£52.99

75mm - 3"


£31.89

£34.57

£40.09

£48.10

£64.16

100mm - 4"


£34.57

£37.96

£45.30

£55.60

£74.81

150mm - 6"


£40.09

£45.30

£55.35

£65.74

£93.26

Discounts for Ordering Online

Font - Veljovic Book
Border - CF022

Font - Veljovic Book
Border - CF023

Font - Veljovic Book
Border - CF021

Font - Heather Regular
Border - DC049




Images and Borders

We can include images or decorative borders on the signs. We have lots to choose from

CLICK HERE

Layout
If you have a particular layout in mind please send it to us as a sketch, jpg, gif or tiff image or a word document We will re-create your design as closely as we can. If you send artwork as an eps vector image we can use it as it is.

Holes
Four holes are drilled into the sign if required at no extra cost.

Letters
The lettering can be engraved in a variety of Fonts
Font - Motfemno, Border - B250
Place your Order
Use the Online Shop


Its easy - Pay by Card, Cheque or Online Banking

Signs - 01769 561355
Memorials - 01769 618585


By email - sales.signmaker@gmail.com
Design Your Own Sign / Plaque
.You create the design - we send you a quote


Easy Pay Tell us what you want - we will send you the price with an Easy Pay link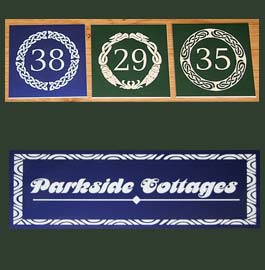 Most of our signs are sent by courier and a signature will be needed. We can send the parcel to your works address.

Didn't find what you were looking for?
Click on full colour
Site Map
or use search bar above.
Made in the UK. Our team at The Sign Maker looks forward to helping you with your sign.
.