Driftwood Effect House Signs and Name Plates
These are very unusual and really do show the beauty of the grain. The letters are protected by special rubber stencil and the background is sand blasted away leaving the driftwood effect. We normally use oak but can use sapele (similar to mahogany) or iroko (similar to teak) Oak has the most pronounced driftwood grain effect but the least depth to the letters. We usually finish with a long life satin varnish or we can protect the signs with either Danish Oil or Osmo Oil. The background on iroko can be left untreated as this timber does contain natural oil.


Font - Timber - oak. Letter Colour - Black. Finish - Light Oak Osmo Extra. Border with indented corners
Lettering
The letters are slightly raised above the driftwood effect background. Colours - Black, Brown, Ivory and Green. We can use most common fonts - for a selection CLICK HERE For this type of sign it is best to used a bold font without any thin lines or tails. Letter size depends on the number characters but the minimum size is 30mm. This is size 9 on our sign sizing and layout tool.
Font -Bookman Old Style. Timber - oak. Letter Colour - Black. Finish - Light Oak Osmo Extra. Standard Picture
Pictures
We can include simple pictures on the signs. We have a selection of Standard Pictures - CLICK HERE - or you can send in your own artwork - It must be a silhouette style image without any very fine lines or shades. The cost is £7.50 per standard image or £27.50 for a jpg or other bitmap image. If you do want an image the maximum number of letters is reduced by three.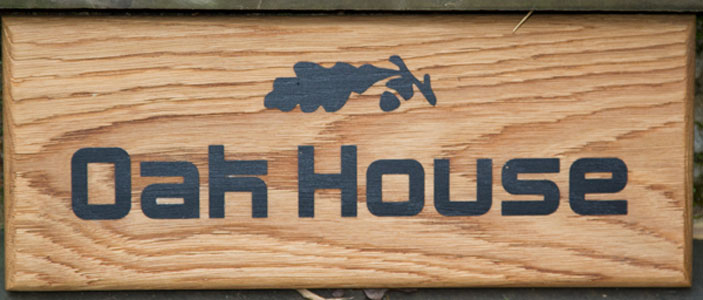 Font -Benny. Timber - oak. Letter Colour - Black. Finish - Osmo Extra Oil. Image- DD0067
Holes
Holes can be drilled at 85p per hole or as an alternative to holes you can use CT1 - a very powerful adhesive which is easy to use and is £14.35 click here for more information on CT1.
| | |
| --- | --- |
| Font - Jester. Timber - oak. Letter Colour -Ivory. Finish - Danish Oil | For raised letters with less grain choose Iroko |
Standard Sizes - Prices include all letters and VAT

OAK
Length
12"
300mm
15"
375mm
18"
450mm
23"
575mm

Maximum Number of
Characters per Line

UPPER CASE - 7
Lower case - 9

UPPER CASE - 9
Lower case - 12

UPPER CASE - 12
Lower case - 16

UPPER CASE - 16
Lower case - 21

Height
4" 100mm -1 line of text

£44.95

£49.60

£54.25

£62.20

6 inches 150mm -1or 2 lines of text

£54.25

£61.30

£68.25

£79.95

It's Cheaper to Order Online

NB If you use the maximum number of letters, the letter size will be 30mm.
With less than the maximum, letters size is increased to fit the name aesthetically on the sign.
Font - . Timber - oak. Letter Colour - Black. Finish - Light Oak Osmo

IROKO
Length
12"
300mm
15"
375mm
18"
450mm
23"
575mm

Maximum Number of
Characters per Line

UPPER CASE - 7
Lower case - 9

UPPER CASE - 9
Lower case - 12

UPPER CASE - 12
Lower case - 16

UPPER CASE - 16
Lower case - 21

Height
4" 100mm -1 line of text

£44.25

£48.75

£53.25

£60.75

6 inches 150mm -1 or 2 lines of text

£53.25

£59.95

£66.75

£77.95

Prices include all letters and VAT


SAPELE
Length
12"
300mm
15"
375mm
18"
450mm
23"
575mm

Maximum Number of
Characters per Line

UPPER CASE - 7
Lower case - 9

UPPER CASE - 9
Lower case - 12

UPPER CASE - 12
Lower case - 16

UPPER CASE - 16
Lower case - 21

Height
4" 100mm -1 line of text

£43.80

£47.95

£52.50

£59.90

6 inches 150mm -1or 2 lines of text

£52.50

£58.95

£65.75

£76.70