Site Search
Superior Entrance Sign on Posts with Engraved Insert.


These superior entrance signs are beautifully crafted. The posts and the inner panel are solid oak. These can be left looking like natural oak by treating with a tough satin finish varnish.
Alternatively they can be painted. The paint is a very hard wearing polyurethane paint which is mixed with a hardener before spraying. Our standard colours are Black and White. We also have Cream, Mid Grey, Heritage Green, Red plus Farrow & Ball Colour Matches - Estate No.84 green blue, Stiffkey Blue, Purbeck Stone (light grey) & Lichen (green) are available for extra £5. See other stock colours
Other colours mixed for us @ £55 per order.(not per sign) We are able to match any Farrow & Ball colours.




Font - Times New Roman Corian Colour - Antracite Paint Colour - Purbeck Stone
.

A recess is carved into the oak so that the corian plaque can be neatly inserted into it. Corian is a very hard wearing material which looks and feels like stone. It is actually stone dust, bonded together with a weather-proof resin.

We engrave your house name into the corian and then paint the letters. The lettering is available in a huge range of fonts.  Letter colour can be white, black, gold, silver, grey, F&B studio green or indeed the same colour as the painted oak - see above. Choosing the same colour for the oak as the lettering and a contrasting colour for the corian can produce a really stunning entrance sign.

Although we recommend using the corian we can also inlay natural slate. With slate, the corners of the insert will be square instead of rounded. Some people do prefer the slate with all its natural markings. - these can include quartz veins and pyrite

Corian Colours

Slate

Black Quartz

Everest

Bone

Aqua

Antracite

Marble
please note - colours can look different on different monitors
The prices below include 30 characters. Simple images from our image library can also be included @ £9.50
Single Sided
Small
Medium
Large
X Large
Oak Panel Size
750mm x 300mm
750mm x 400mm
1100mm x 300mm
1100mm x 400mm
Engraved Plaque
650mm x 200mm
650mm x 300mm
1000mm x 200mm
1000mm x 300mm
Post Size
70 x 70mm x1m
70 x 70mm x1.1m
70 x 70mm x 1m
70 x 70mm x1.1m
Price
£550
£695
£795
£995
P&P Rate
NN
NN
NN
NN
If we can send your sign to a business addres the P&P rate is reduced to M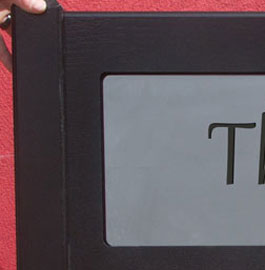 Place your Order
Online Shopping Cart


Its easy to order online. Pay by Card, Cheque Online Banking or via Amazon

By phone - 01769 561355 / 561314
Monday - Friday 9.00am - 5.00pm
By email - sales.signmaker@gmail.com
Design Your Own Sign / Plaque
.You create the design - we send you a quote
Easy Pay Tell us what you want - we will send you the price with an Easy Pay link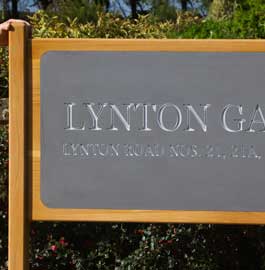 Didn't find what you were looking for?
Click on full colour
Site Map
or use search bar above.
Made in the UK. Our team at The Sign Maker looks forward to helping you with your your entrance sign.