Full Colour Printed PVC Banners with brass eyelets
We can used our large format printer to print banners to your exact requirements. The brass eyelets are normally be placed at 500mm centres into the banner hem, but again this can be adjusted to your requirements. We digitally print at high resolution using waterproof UV stable inks on quality 530gsm PVC. This is medium weight, mid strength banner material ideal for most situations - indoors or outside.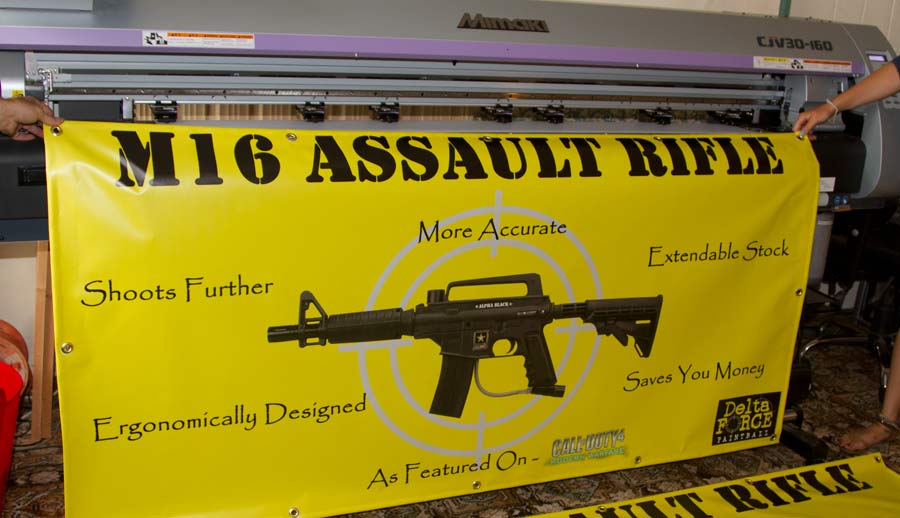 Banners are an ideal way to advertise an event or, as we do, take to an event to advertise your products. They are vibrant and colourful and bound to be noticed.
Sizes and Prices These prices include VAT
Size
1000mm
1500mm
2000mm
2500mm
3000mm
500mm
£32.25
£39.50
£46.25
£53.25
£59.75
600mm
£35.45
£43.75
£52.00
£60.25
£68.50
750mm
£39.75
£49.85
£59.95
£69.95
£79.95
1000mm
£46.50
£59.95
£73.95
£87.85
£101.65
1250mm
£53.35
£69.95
£87.85
£104.95
£122.35
1500mm
£59.95
£75.58
£94.50
£112.95
£129.95
P&P Price Bracket - G




Big Discounts
The prices listed are for a single printed banner
Order two identical banners for a
Order two different banners for a on second printed banners.
Send your artwork in - print ready at the appropriate size - and there will be no extra charges.
We can also design your banner for you. The price includes the first 100 characters which covers most banners. If you needed extra letters they are £1.35 per 50. There is a huge choice of fonts - Click here

We also have a whole range of special text effects which you can use to maker your banner really pop. - Click Here

Backgrounds
We have a selection of amazing full colour backgrounds which can dramatically change the look of your banner @ £4.95 - Click here
Image Costs
There is no extra cost for print ready artwork.
Using one of our standard images or backgrounds - £12.50
Incorporating one of your images into the design - either vectorised artwork or good quality photo - £24.50
Using artwork sent as bitmap image eg. jpg, tiff, gif- which needs to be vectorised - £34.50
Using photographs which need to be worked on- eg backgrounds removed.

- £34.50
If you need help - don't hesitate to call us - 01769 561355
For a small cost of £7.50 we can also create the date in removable vinyl which can be changed each year.