From our Customers
We receive lots of lovely thank you emails from our customers - here are some of the latest.
To see more go to our Blog or see Customer Photos on Pinterest
From: Ibrahim Noor <ibrahim.noor@..................>
Date: Wed, Mar 14, 2018 at 4:43 PM



Hi Danielle,

Just to inform that I have received it.

I love it and I rightfully proud of it.

Very satisfy and friendly, I have seen this from the beginning.

Big thanks once again.

Please accept my regard and extend to your product team.

Greeting,

-ibrahim - Indonesia
---
From: Tom Green <tom@...................>
Date: 23 February 2018 at 10:12
Subject: RE: The Sign Maker - REF 18SV02.023
To: Debbie <vinyl.signmaker@gmail.com>


All done thanks for your help I have attached a photo J

Tom Green Msc BSc(Hons) MCIAT MRICS C.Build E FCABE MCIArb IHBC IMaPS PG Dip (Const. Adj)

Managing Director
Date: 14 February 2018 at 16:54

Hello Debbie
Just a quick message to say thank you SO much for the hearts they are marvellous.
You were all so helpful and efficient.
Whenever I have the opportunity I shall recommend you - I promise!
I've just got to attach 100 ribbons now!
Best wishes
Roma Monk
---

Date: 31 January 2018 at 10:48

My parcel arrived this morning,"Perfect".Thank you very much for your time and attention.A pity all firms are not as efficient as you.
Regards
Ian W Wood

---
Date: 10 January 2018 at 10:43

Hi Debbie
Just wanted to say a big THANK YOU for all you help with the supply of the spare wheel cover for my husband's Christmas present. The honey bee picture is amazing and he was thrilled with it. Your efficiency all round was first class and I would recommend you and your company to anyone requiring any of your products.
Hope you had a good Christmas and New Year.
Best Wishes
Judy
---
Date: 27 December 2017 at 09:59

Dear Sir,
I just wanted to contact you to say thank you.
My plaque arrived safe and sound and is excellent.
My wife would be so pleased with it as am I.
Please pass on my thanks to all at "The Sign Maker".
Kind regards and many thanks.
Allan M Dennison.
---
Date: 22 December 2017 at 22:35

Dear team
Would just like to say thank you for a very professional service and product received from your company. From the prompt returned telephone call to the craftsmanship and dedicated staff to get my order out. It was very "refreshing" to speak to a company that was very willing to help. We seem to live in a nation of complaints so feel it only right that you should be complemented for doing a "good job" when truly due.
Thanks
Claire Gray
Fauld mill farm

---
Date: 22 December 2017 at 16:02
Dear Caroline / Clare and all the team at Signmaker's,
I would like to thank you all for my amazing sign.
It's just perfect,
Thank you so much and please all have a great Xmas
Kind regards

Mr & Mrs Boyer,
---
Date: 21 December 2017 at 13:38


Thank you! My sign has arrived and it is perfect. My granddaughter will be delighted. Such a great service from you. I will definitely recommend you and look forward to ordering from you in the near future.
Kind regards.
Patricia Freestone
---
Date: 30 November 2017 at 18:45

Hi Debbie.
As i promised a few pictures of our new sign.We are very pleased with it.You have our permission to use these pictures,Facebook,Advertising ect.Once again,many thanks again to all staff at The Sign Maker for the fantastic sign and lighting.

Best Regards.
Alan.
Bowes and Social Club.

Date: Wed, Nov 29, 2017 at 6:49 PM

Hello,
I would wish to thank you for the plaque provided. It looked terrific and is obviously well made. I have mounted the item on a gate post and it really looks the part.
Also I would thank you for the mounting screws with head covered as per the plaque background so that they matched. A very nice bonus which is appreciated.
All in all, well done, a smashing job and a fitting memorial to me Aunt.
Thank you again.
Best wishes
Brian Morrison
---
Date: 14 November 2017 at 18:32
Just a note to say many thanks for the beautiful sign, my husband was totally wowed by it and it totally looks perfect, the craftsmanship is amazing.
Kind Regards
Angela
---
One of our signs now in Barbados. It is made from tricoya painted in F&B Carriage Green

Date: 3 November 2017 at 08:22
Subject: St Peter's Rectory Barbados

Hi Team
Thanks for getting there on the delivery of the sign. It added a genuine touch to our Georgian property.
All the best.
Elaine & Robert
---

Date: 18 October 2017 at 04:42

We are very delighted with the cross for my dear Mother which will be dedicated on her grave on All Saints Day . An excellent piece of work which she would have loved . Thankyou so much
Joy
Sent from my iPad
---
Date: 21 September 2017 at 12:52
Re: Order Ref: 1709.SS.028 Consignment Number IA9732440


Thank you for the two house signs which arrived safely today. 
The stone is beautiful and so in keeping with the limestone of our village.  We can't wait to put them up. 
Many thanks for your care throughout the process. 
Warmly
Di
Date: 22 June 2017 at 20:43


Hello


I just wanted to say thank you for our new sign - it's exactly what we wanted and is absolutely perfect. We've just been out to put it up on the handy telegraph pole at the end of our drive - and I've attached a photo so you can see how brilliant it looks in its new home.

Many thanks!

Valerie

---
Date: 28 April 2017 at 09:44


Hi Debbie,

Great news! The plaque has arrived safely and in perfect condition. I'm very pleased with its appearance and like very much the oak backing board.

So grateful thanks to you and all the team for getting it to me in time for my trip to Bournemouth.

Wishing you all continuing success with your business,

Kind regards,

Jane
---

Date: Fri, Apr 21, 2017 at 9:47 AM

Thank you very much for the lovely slate block/plaque which was safely received yesterday. I am very pleased with it and it is as clear and concise as we wanted.

Perfect.

Thank you also for good service.

With regards
Susan Brazier
---

Date: 4 April 2017 at 18:28

I have just received my sign. I would like to say how much I like it and to say Thank you very much for a product well made. It will make a beautiful addition to our home.
Thank you again.
Kind Regards
Ciara Mulhern
---
Date: 1 April 2017 at 02:58

Dear Sign Maker Team,
Ref:17SS02.039.CJ.
Slate sign 'The Cottage' is absolutely beautiful. I'm more than thrilled with it. A huge thank you..
Best wishes,
Lorna Prestwich
---
Date: 26 March 2017 at 20:09
Hello,we received our house name plate on Friday ,just wanted to say a big thank you for a quality piece of work ,it makes a refreshing change to get something made so old school and solid.
Best regards Stewart.

Sent from my iPad
---
"Please do send my thanks on to everyone involved, and a big thank you to you for persevering with this as I know there was lots of faffing in the beginning!   Thank you to you and all of your team for all your work on this project, the signs really do look AMAZING.   

And from a logistical point of view, THANK YOU SO MUCH for packing them with the relevant labels and location numbers. That was a god send today when we were driving around and installing them from the back of my car!
Your team really have done a great job and please pass on our thanks.  Hopefully we will get Phase 2 authorised later in the year, I will definitely be back in touch.  The quality of the signs and the service was fantastic. Best wishes. Vicki"
---
Hi Debbie,
Just to let you know our sign arrived safely and is on the gate. Many thanks for all your help, please pass our thanks to all the team.
Best wishes
Carol Stark
---
Date: Sun, Jan 1, 2017 at 4:04 PM
Dear Clare
I just wanted to write and say a big thank you for sorting out the sign- it looks brilliant. Sorry it has been delayed but we have been in Melbourne visiting both our sons that live there - so it has been full on with Xmas etc! Luckily they are coming back next year after 3 years so we won't have to move!
Best wishes to you all for a Happy New Year
Charlie
Dr Charles Walker
MB BS BSc DRCOG MRCGP
---

Date: 15 November 2016 at 18:19
Subject: Lindsell War Memorial



Good evening to you all.

I wanted to send a photo of your finished sign in place.
We had the unveiling on Sunday at a special service in our little church. Many of the relatives of the fallen attended as well as many parishioners.
We really are very grateful for all your hard work and patience to make such a wonderful memorial, I'm happy to say everyone was delighted with the quality of your work. In the end we mounted in such a way that you can not see the fixings.

Thank you all so much.
Best regards Jonathan Curtis

Chairman Lindsell Parish Meeting.


Date: Sun, Oct 30, 2016 at 3:59 PM


Hi Laura

I can't recommend The Sign Maker highly enough. Right from the initial enquiry they were fast, efficient and responsive. They answered all questions quickly and made the whole process very easy.

I'm really pleased with my wheel cover, it arrived on the date specified and it should really help my business, marketing and advertising.

Thank you for your prompt and professional service.

Paul Newey
New YOU Personal Training


Thanks again guys

Kindest regards

Paul :-)

Paul Newey
New YOU Personal Training
www.newyoupt.co.uk
---
Date: 20 October 2016 at 17:20

Hello sign maker

Just a quick note to say I have just received the engraved sign and I'm absolutely delighted with it. Thank you so much its perfect

Best Regards

Phil Wootton
---

Date: 15 October 2016 at 18:24


Hi Debbie

Thank you for our sign we think it looks perfect. It is now enjoying the view!!

Louise
---
11 October 2016 at 11:09

Dear Caroline
Our sign arrived this morning. It is exactly what we asked for and we are thrilled with it.
Thank you so much.
Regards
Ann
Sent from my iPad
---
Date: 7 October 2016 at 14:28
Dear Debbie

Thank you for your email and I confirm safe receipt of our order today.

I would like to say how pleased we are with the product and the service. The signs are gorgeous and I am sure they will look very smart on the bedroom doors at our chateau. They will be fitted this weekend and have arrived just in time!

Thank you very much for your close attention throughout and for prioritising our order – it is much appreciated.

Kindest

Victoria


Kind regards

Victoria Dwyer-Davies
Company Secretary
Graig Shipping plc
---
Date: 6 October 2016 at 16:17

Hi Debbie
Attached is a photo of your excellent sign in situ in the SW of France
As you can see it looks very good and we are very pleased with it. Thought you would like some feedback from some very satisfied customers, do tell the rest of the team how pleased we are! Warm regards, David

David Cottrell

---
Date: 13 September 2016 at 14:19

Hi Caroline,

Just wanted to let you know the sign has arrived and is absolutely perfect. So a huge, huge thank you to the whole team.

Is there somewhere on your site or another site I can leave some positive feedback?

Cheers,

Mike

Sent from my Windows 10 phone

Date: Sun, Sep 4, 2016 at 12:36 PM

Dear Signmakers,

It's a bit late for me to thank you (sorry) but I spoke to a lady that hurried the sign for me as it was naming my outhouse after my little cat who was dying.

Just wanted you to know the sign was beautiful and made it in time. He christened the house and passed away 2 days later.

The sign is a beautiful landmark/ memory to his name (see attached).

Thank you so very much.

Tessa Shreeve
---
Date: 1 September 2016 at 20:23

Just a note to please pass on to your team. I am delighted with the oak memorial cross! Everything was excellent - not just the cross; the price, your efficiency with dealing with the order, the way it was packed and the delivery. What great service... your company deserves the credit.
kind regards
T Halstead
Bucks
---
Date: 31 August 2016 at 17:56

Hi Caroline, thought you might like to see our new sign in situ. We have had many wonderful comments about it from our friends and guests at our B&B ( www.flowerburn-nairn.com)
Thanks again Alison.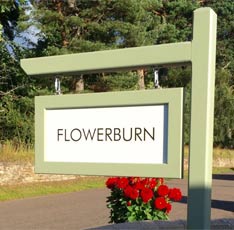 ---
Date: Wed, Mar 16, 2016 at 8:02 AM

Dear "Sign Maker Team",

Thanks for the proofs. Could we proceed with Option "B", the second one on the proof, as this is our preferred option? Thanks
again for such helpful service. Really impressed, again!

Kind regards,

Paul Johnson.
---
Date: 16 March 2016 at 12:06

Hi Caroline
We received the replacement sign today and are delighted with it. We look forward to putting in place and enjoying it for years to come.
We appreciate all of your help and your fantastic customer service.
Kind regards
Angeline
---

Date: 9 March 2016 at 09:47


Hello,
I have just received my dads plaque and just wanted to say it is lovely, we are so pleased with it.
Thank you for your excellent customer service and beautiful products :)
Best wishes,
Becky
---
Date: 25 February 2016 at 18:42

A brief note to say how delighted we were with the granite wedge plaque that you recently designed & made for me.
It was just perfect for the tree planting in Bittadon churchyard, and you produced it well in time for the occasion. When anyone asked, I mentioned who had made it. I am glad to hear of a local firm producing good quality work.

Regards

Angela McGarry
---

Date: 25 February 2016 at 18:55

To Everyone at Signmaker,

May I put on record my sincere thanks to everyone for your excellent service and communication. It has been an absolute joy to work with you all.

Not that it matters to you much but I have been restoring a 60 yr old butchers bike to feature in our garden which we will be opening for charity in June. The attached photo's hopefully will indicate how pleased I am with the final outcome.....beautifully finished off by Signmaker!!

Thanks again,

Jim Elkins.
---

Date: Mon, Feb 22, 2016 at 1:08 PM


Hi Anne
Just wanted to say a big thank you to you and the team.
Our order was delivered today,and we are really pleased with the
memorial.
Kind Regards
Barry
---
Date: 30 January 2016 at 14:26

Good Afternoon
We have received the plaque you kindly produced and sent to us, and we very happy with it.
Your prompt and professional service is appreciated
Thank you very much
Linda and Alan Rogers
---
Here is the message sent from the visitor:
Thank you for the wonderful house name sign . The artist did a fantastic job on the personalised image , it was not an easy image to paint . Again thank you very much.
Regards,
Gerry

Thank you for using Banckle.Chat.
Best Regards,
The Banckle Team
---



Dear The Sign Maker Team,
My name is Sophie Pendry, myself and my friends ordered a plaque from you a couple of weeks ago in memory of our friend Dan Hougham who was tragically lost in a car accident 7 weeks ago.
I wanted to take the time out to personally write you a letter of thanks, We were absolutely over whelmed by the finished result as it's exactly what we were after. I can assure you so many tears were shed upon only showing Dan's Friends before our event on the 31st July to unveil it's new home to the family and the rest of Dan's Friends. I physically can't thank you enough for getting every detail spot on with this and it's meant the world to all of us.
The process from start to finish was as simple as anything due to your wonderful team. Your service is impeccable and i didn't have any doubts when ordering this. It's been extremely hard for all of us losing Dan as he was essentially a brother to us all. Thank you for every phone call, every email and every proof it's all perfection.
I know it's not much but from the bottom of all of our hearts we thank you all for making our dreams come true and giving us something Dan deserves more than anything through his honour that we can visit forever more.
We can never be more grateful.
All our love
The Guildford Lot
xxx
Click here to see lots more reviews on our Blog or see Customer Photos on Pinterest