Date: Sun, Sep 4, 2016 at 12:36 PM

Dear Signmakers,

It's a bit late for me to thank you (sorry) but I spoke to a lady that hurried the sign for me as it was naming my outhouse after my little cat who was dying.

Just wanted you to know the sign was beautiful and made it in time. He christened the house and passed away 2 days later.

The sign is a beautiful landmark/ memory to his name (see attached).

Thank you so very much.

Tessa Shreeve
---
Date: 1 September 2016 at 20:23

Just a note to please pass on to your team. I am delighted with the oak memorial cross! Everything was excellent - not just the cross; the price, your efficiency with dealing with the order, the way it was packed and the delivery. What great service... your company deserves the credit.
kind regards
T Halstead
Bucks
---
Date: 31 August 2016 at 17:56

Hi Caroline, thought you might like to see our new sign in situ. We have had many wonderful comments about it from our friends and guests at our B&B ( www.flowerburn-nairn.com)
Thanks again Alison.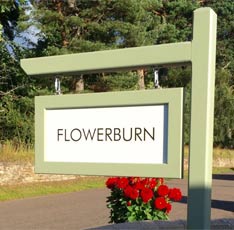 ---
Date: Wed, Mar 16, 2016 at 8:02 AM

Dear "Sign Maker Team",

Thanks for the proofs. Could we proceed with Option "B", the second one on the proof, as this is our preferred option? Thanks
again for such helpful service. Really impressed, again!

Kind regards,

Paul Johnson.
---
Date: 16 March 2016 at 12:06

Hi Caroline
We received the replacement sign today and are delighted with it. We look forward to putting in place and enjoying it for years to come.
We appreciate all of your help and your fantastic customer service.
Kind regards
Angeline
---

Date: 9 March 2016 at 09:47


Hello,
I have just received my dads plaque and just wanted to say it is lovely, we are so pleased with it.
Thank you for your excellent customer service and beautiful products :)
Best wishes,
Becky
---
Date: 25 February 2016 at 18:42

A brief note to say how delighted we were with the granite wedge plaque that you recently designed & made for me.
It was just perfect for the tree planting in Bittadon churchyard, and you produced it well in time for the occasion. When anyone asked, I mentioned who had made it. I am glad to hear of a local firm producing good quality work.

Regards

Angela McGarry
---

Date: 25 February 2016 at 18:55

To Everyone at Signmaker,

May I put on record my sincere thanks to everyone for your excellent service and communication. It has been an absolute joy to work with you all.

Not that it matters to you much but I have been restoring a 60 yr old butchers bike to feature in our garden which we will be opening for charity in June. The attached photo's hopefully will indicate how pleased I am with the final outcome.....beautifully finished off by Signmaker!!

Thanks again,

Jim Elkins.
---

Date: Mon, Feb 22, 2016 at 1:08 PM


Hi Anne
Just wanted to say a big thank you to you and the team.
Our order was delivered today,and we are really pleased with the
memorial.
Kind Regards
Barry
---
Date: 30 January 2016 at 14:26

Good Afternoon
We have received the plaque you kindly produced and sent to us, and we very happy with it.
Your prompt and professional service is appreciated
Thank you very much
Linda and Alan Rogers
---
Date: 30 January 2016 at 19:03

Just wanted to say thank you very much for our new signage, lovely work!!

Many thanks
Tracy and the team at Taylorhobbs…
---
Date: 29 January 2016 at 19:20

Hello!
I just wanted to let you know that I've received my order the other day. It came out absolutely beautiful!!! My husband and I cannot thank you enough. The marker is going to be used as a memorial for our daughter. I've spent several months searching for the perfect marker and am so happy I found your website, we could not be happier.
Thank you again for your beautiful craftsmanship.
Sincerely,
Theresa & John O'Reilly
---
Date: 27 January 2016 at 21:38


Hi

I just thought I would email you to say thank you for the 8 kennel signs you made for the greyhound charity I help at.

Everyone is really happy with them and here they are in situ ( - photo attached Charlie and Kate in Kennel 2 after their daily walk)

Thank you again

Denise
---
Date: 20 January 2016 at 16:16


To all at sign- maker, Today I received the memorial plaque for my brother from you, it is just
Beautiful,I couldn't have wished for anything more. Many thanks to everyone involved in the
making of it. Kind regards Michael Crickett.
---
Date: 14 January 2016 at 17:06

I would just like to say a big thank you for the great customer service that I received last month whilst ordering a gift.
I had a slight problem whilst ordering online trying to sort out a way to pay. After calling you, I was quickly helped by a very courteous lady who took my payment and managed to get the item delivered to me in under a week - all this in the last week before Christmas - amazing!
The item ordered was a gift and a bit of a risk as I was ordering sight unseen. I had no cause for concern. The slate house number arrived well packaged and was absolutely perfect. My friends were delighted too.
So, a big thank you for both a great value and quality product and great customer service. I will have no hesitation using you again and recommending you to others.
Kind Regards,
Julie Brown
---
Date: Wed, Dec 16, 2015 at 5:37 PM


Dear Signmaker
Today I received the Garland of Flowers house sign you made for me and I must say I am absolutely delighted with it. The sign is exactly how I wanted it and it has been painted beautifully, with amazing colours that have a glossy finish. Between ordering the sign and delivery, I contacted you by phone and email and I would like to thank your staff for their prompt assistance and pleasant manner. What a great team you have-Thank you all so much for my beautiful house sign.
I wish you all a very Merry Christmas and a Sparkling New Year.
Kindest regards
Tracey Darvell
---
Date: Tue, Aug 11, 2015 at 11:32 AM
Subject: - Ref:1507.SS.048

Hi, thankyou so much,received our sign yesterday and we love it, brilliant service, brilliant team. Dawn
---
Date: Thu, Aug 6, 2015 at 10:21 AM
Subject: Thank you.

Good morning,
Thank you very much for the memorial post. The helpfulness of the telephone receptionists, the attention to detail by the designer, including the provision of 4 proof designs to ensure what ended up on the post was what we had in our heads, plus the quality of workmanship of the finished work impressed us both.
Regards
Liz and Bob Ledwidge