Granite, Marble and Quartz House Signs
Top Font - English, Bottom Font - Engravers MT


Ash Grey Granite, Font - OZ Handicraft BT - Painted White

Black Granite, Font - Nadall Lower Case - Gold
| | | |
| --- | --- | --- |
| | Honed Carerra White - Raised Letters - Background Blasted Away | |
Marble & Granite Signs - Price List

Length
295mm
375mm
475mm
575mm

Maximum Number of
Characters per Line

UPPER CASE -9
Lower case - 15

UPPER CASE - 13
Lower case - 21

UPPER CASE - 17
Lower case - 27

UPPER CASE - 21
Lower case - 33

Height
75mm -1 line of text

£28.50

100mm -1 line of text

£32.50

£36.50

£39.75

£45.20

145mm -1or 2 line of text

£39.90

£45.40

£49.75

£54.30

195mm - up to 3 lines of text

£46.30

£53.60

£59.65

£65.15

295mm - up to 4 lines of text

£52.50

£62.75

£69.80

£75.50
If you use the maximum number of letters per line they will be approx. 25mm high. The fewer letters you use the larger they can become.
MARBLE
Marble is metamorphosed limestone with a uniform quality. It is a very strong material with many different sizes of crystal and colour variances and is 10 - 12mm thick. We offer four polished marbles plus one natural smooth honed. All marbles fall into price bracket A. Carerra White, Bianca Carrara and Nero Regale Marbles are also available up to 600mm x 600mm. Click Here
| | | | | |
| --- | --- | --- | --- | --- |
| Polished Bianca Carrara | Polished Verdi Alpi | Polished Nero Regale | Polished Light Sunny Gold | Honed Carerra White |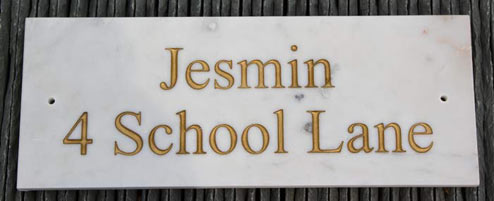 This house address sign was made in Carerra marble using the font Times New Roman with gold letters




The size of the lettering and the layout of any marble or granite house address signs will be designed to the customers requirements

.
GRANITE
Granite is a fine to coarse-grained crystalline igneous rock with intense colouration which exudes style. All our granite signs have a polished finish and is approx 10mm thick.
Absolute Black

Star Galaxy Black

Ash Grey

Arctic Grey

Oyster Sparkle

Extra cost for Emerald Pearl and Blue Pearl - £5

We also have a lovely light limestone - 15mm thick - where you can
actually see the small fossilized creatures - Click Here

Emerald Pearl

Blue Pearl
| | | |
| --- | --- | --- |
| | Blue Pearl Granite - Gold Letters - Font OZ Handicraft BT - Size 400mm x 145mm | |
QUARTZITE
Quartzite rocks are metamorphosed sandstone with a smooth surface. Quartz-based engineered stone provides a durable, non-porous, scratch-resistant and low maintenance surface and is approx 10mm thick. All colours are bold and progressive with innovative sparkle.
| | | | |
| --- | --- | --- | --- |
| Blue Cosmos | White Cosmos | Black Cosmos | Wine Cosmos |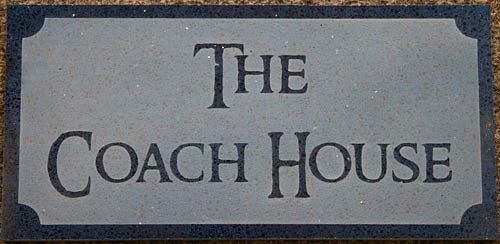 Blue Cosmos - Unpainted Letters - Background Sandblasted Away - Ringbearer font (upper & lower case lettering)

NB - If the sign becomes very wet the contrast between the gloss letters and the sandblasted background will lesson
| | |
| --- | --- |
| White Cosmos Quartzite - Decorative border 1 (without arch top} | Blue Cosmos Quartzite |
This stone sign was carved into white cosmas quartzite. The font used was Ringbearer.

The border(with indented corners) was also carved out and left unpainted. It would also have been possible to paint the letters and leave the border unpainted.

This sign measured 195mm x 375mm


LETTERS
The letters are normally painted silver, gold and black, but we can use other colours. On the polished surfaces can also etch the background away leaving the letters unpainted. For a selection of fonts - CLICK HERE The lettering size is adjusted to suit the sign, but if you have something particular in mind - just put it on the order form or use our sign size and layout tool to send us your ideas. Price includes 6 letters - extra letters £1.10 (no extra letter charge for unpainted letters)

For More Ideas - Visit the Stone Gallery

The signs are cut from slabs of polished marble or granite and the edges are left clean cut. We can bevel the edges and hone the sides of the sign down to a smooth honed finish at a cost of £7.95
Font - Arial. Standard image
Oval border in relief.

Font - Andalus, Ivory Letters


Painted Borders available with larger signs.

PICTURES
We can include simple pictures on the signs. We have a selection CLICK HERE - or you can send in you own artwork - Click Here

BORDERS
We can add a line border with indented or square corners. Another interesting technique is the border in relief where the stone around the outside of the sign is blasted away leaving the required shape in the middle. We also have a selection of decorative borders - Click Here - The decorative etched border can be painted or left unpainted.
Border Costs
Circumference (length around outside of sign)
<1.5m 60 inches
1.5m - 2.1m 60in - 64 inches
Line border - painted
£5.95
£10.45
Border in relief
£8.95
£15.65
Decorative border - painted
£8.95
£15.65
Decorative border - unpainted
£5.95
£10.45
Place your Order

Online Shopping Cart
By phone - 01769 561186 / 561355
By email - sales@sign-maker.net
Print an Order Form
Use the Secure Payment Line