Site Search
Painted Tricoya Board with Wood Framed Edge

Tricoya is an amazing wood based board which is exceptionally durable and perfect for painting in any one of our . The addition of the frame edge somehow turns a fairly basic sign into something quite special.

The 30mm frame edge is usually painted the same colour as the board itself with the lettering painted in a contrasting colour. However it can be painted the same colour as the lettering. The colour choice and font choice are yours to make - just let our designer know and we will create you a beautiful sign ideal for a house sign or a business sign.

These signs are usually single sided and are designed for wall mounting or they can be back fixed to posts. For hanging framed signs we normally create a frame to enclose 6mm tricoya for a lighter weight double sided sign. The inner part of the frame edge is usually chamfered - see Sherwood sign below, but they could be square edged.
| | |
| --- | --- |
| | |
Painted Signs with Frame Edge on 12mm Board- Single Sided- Prices Include VAT

Size

250mm

300mm

400mm

500mm

600mm

800mm

1000mm

150mm

£90.73
£95.07
£103
£112
£121
£138
£155

200mm

£96.64
£101
£112
£122
£132
£153
£173

250mm

£102
£108
£120
£132
£143
£167
£191

300mm

£108
£115
£128
£141
£155
£182
£208

400mm

£124
£132
£149
£165
£182
£215
£248

600mm

£143
£155
£178.
£200
£223
£269
£314
Order Online Now For Sign Board P&P - Click Here
Painted Signs with Frame Edge on 18mm Board- Single Sided- Prices Include VAT

Size

400mm

500mm

600mm

800mm

1000mm

1200mm

1500mm

1800mm

300mm

£137
£153
£168
£199
£231
£262
£309
£356

400mm

£160
£180
£199
£238
£277
£316
£375
£433

600mm

£195
£223
£250
£304
£359
£413
£495
£577

800mm

£234
£269
£304
£374
£444
£514
£619
£724

1000mm

£273
£316
£359
£444
£530
£615
£743
£871

1200mm

£312
£363
£413
£514
£615
£716
£867
£1,019
Order Online Now For Sign Board P&P - Click Here
A cheaper alternative is the Painted Tricoya Signs without a frame



You may also want to add an image and again we have a huge choice of designs - click here. As these are to be painted on and not printed, please choose an image without very fine detail. The cost is £12.50 per image. If you wanted us to use your own image the cost is £34.50
Frame Edged Sign With Posts

We can attach painted hardwood posts to these painted frame edge signs. They are fixed before painting and sent out in one piece.

Planed to (approx)
45 x 45mm
58 x 58mm
70 x 70mm
95 x 95mm
1m
£38.50

£51.81

£81.83
£131
1.2m
£45.22
£61.17

£97.20
£156
1.5m
£55.28
£75.21
£120
£194
1.8m
N/A
£89.25
£143
£232
2m
£98.61

£158
£258
2.3m
£181
£296

Prices are per post - larger signs will need two posts. They can be either be buried in the ground or used with post holders.
If you do have a detailed logo we can laser etch through the paint into the tricoya below. This is only effective for lighter coloured signage.

To protect the painted sign, particularly when lasering through the paint layer we can spray with High Gloss Coach-Kote. This is a high quality clear coach enamel - a clear version of the coach enamel used on the royal carriages at Buckingham Palace. (ask for a quote)

Fixing Signs Without Posts
For single sided signs it may be better to use an adhesive rather than spoil the clean look with holes. This is available from any builders merchant. We can supply CT1 or Power Grab N Bond at £15.30. Although we would not normally drill holes in these signs, we can on request.

NB The paint completely encapsulates the sign so great care must be taken if you drill holes or screw into the sign. You are creating a weak point where water can penetrate, which will in turn cause the paint to bubble. If you have to drill a hole for fixing then make sure you fill the hole with a sealant such as CT1 before putting in the screws or bolts.

NB Single side signs are painted on the reverse, but you will see a small wax filled hole which is used to hang the sign from during the paint spraying process.

| | |
| --- | --- |
| | Painted wooden signs and painted posts have increased in popularity by huge amounts in the last year. While the signs and posts have a clean modern feel there is something very traditional about them. Normally posts come ready to be buried into the soil. (at least 450mm) We also have a large range of other posts - softwood and hardwood in various lengths - click here |
| | |
| --- | --- |
| | These are an alternative painted solid wood sign. The frame is 30mm Accoya wood and the internal panel is 6.5mm waterproof Tricoya Board. This wood based composite product is exceptionally stable, strong, durable and weatherproof. These can again be single sided wall mounted house name signs, or double sided hanging signs. We also make blank boards for you to paint your own lettering. These are available painted in all our stock colours and in portrait or landscape. |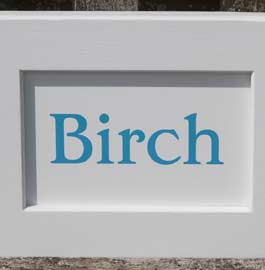 Place your Order
Online Shopping Cart


Its easy - Pay by Card, Cheque or Online Banking

Signs - 01769 561355
Memorials - 01769 618585


By email - sales.signmaker@gmail.com
Design Your Own Sign / Plaque
.You create the design - we send you a quote


Easy Pay Tell us what you want - we will send you the price with an Easy Pay link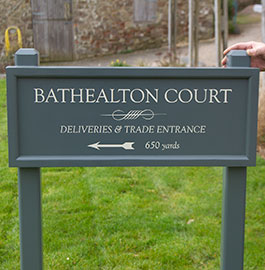 Most of our signs are sent by courier and a signature will be needed. We can send the parcel to your works address.

Didn't find what you were looking for?
Click on full colour
Site Map
or use search bar above.
Made in the UK. Our team at The Sign Maker looks forward to helping you with your painted sign.
.