The Sign Maker for the very best in Bespoke House Signs : Green Slate and Silver Slate Home Signs


Site Search
.

Slate Signs & Name Plates


Font - Engravers MT. Silver Nickel, Decorative Border - 01. ref - 1402.SS.042
SLATE
Slate is a very fine grained metamorphic rock with distinctive streaks. Slate is used to create durable home name plates and is available in an array of colours as well as the standard grey.

The slate thickness is 10-12mm

This coloured slates are much more unusual than the standard grey. However you need to be aware that no two pieces are the same.

Some of this coloured slate can be flaky on the reverse. To strengthen it we sometimes use a grey slate resin. This does not detract from the front surface.
| | | | | | | |
| --- | --- | --- | --- | --- | --- | --- |
| | Ocean | | Silver Shine | | Heather Slate | Silver Nickel |
Images
We can include simple images on the signs at a cost of £9.50 . We do have lots to from CLICK HERE
It is essential to choose a bold image as it is impossible to sand blast very fine lines.

You can also use an image of your own - Click here
Coloured Slate
Signs - Price List
Length
295mm
375mm
475mm
575mm
Height
Maximum Number of
Characters per Line

UPPER CASE -9
Lower case - 15

UPPER CASE - 13
Lower case - 21

UPPER CASE - 17
Lower case - 27

UPPER CASE - 21
Lower case - 33

75mm -1 line of text

£42.60

100mm -1 line of text

£46.95

£51.95

£59.75

£66.20

145mm -1or 2 line of text

£54.90

£59.95

£72.75

£79.95

195mm - up to 3 lines of text

£63.80

£72.60

£81.60

£92.80

295mm - up to 4 lines of text

£76.80

£89.75

£104

£120

Save money - Order Online Now

Post & Packing


Slate Colour - Silver Shine, Font - Tempus Sans

If you use the maximum number of letters per line they will be approx. 25mm high.
The fewer letters you use the larger they will become.
LETTERS

Standard colours for painted letters are white, black, Farrow & Ball Purbeck Stone (light grey), Farrow & Ball Lichen (light green). We have a number of other stock colours @ £5, along with memorial gold or silver @ £10. Memorial gold looks very similar to gold leaf.
We can also blast the background away leaving the letters raised and unpainted. When blasting this type of slate sign it is important to use a bold font. For a selection of fonts - CLICK HERE Letter size is normally adjusted to suit the sign, but if you have something particular in mind - just put it on the order form or send us your ideas using our sizing and layout tool. Price includes 6 letters - extra letters - £1.10
For More Ideas - Visit the Slate Gallery

BORDERS
A line border with indented or square corners can be added at a cost of £6.95. We also have a selection of decorative borders - Click Here - The decorative border is £10.95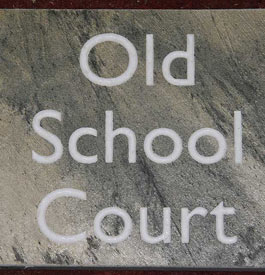 Place your Order
Use the Online Shop


Its easy to order online. Pay by Card, Cheque Online Banking or via Amazon

By phone - 01769 561355 / 561314
Monday - Friday 9.00am - 4.30pm
By email - sales@sign-maker.net
Print an Order Form
Easy Pay Tell us what you want - we will send you the price with an Easy Pay link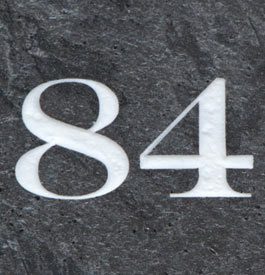 Most of our signs are sent by courier and a signature will be needed. We can send the parcel to your works address.

Didn't find what you were looking for?
Click on full colour
Site Map
or use search bar above.
Made in the UK. Our team at The Sign Maker looks forward to helping you with your slate home sign.