Site Search
Cast Signs - Arch Tops

STSR3 - Arch Top Sign with Motif,
2 line of Straight Text & Inset Border
Buy Now
300mm x 200mm -

£188

C
350mm x 235mm -

£220

C
350mm x 250mm -

£229

D
400mm x 265mm -

£264

D
450mm x 300mm -

£280

D
500mm x 335mm -

£342

G
600mm x 400mm -

£481

H
800mm x 530mm -

£834

H
STSR4 - Arch Top Sign with Motif,
1 line of Straight Text & Inset Border
Buy Now
300mm x 200mm -

£188

C
350mm x 235mm -

£220

C
350mm x 250mm -

£229

D
400mm x 265mm -

£264

D
450mm x 300mm -

£280

D
500mm x 335mm -

£342

G
600mm x 400mm -

£481

H
800mm x 530mm -

£834

H

STSR1 - Arch Top Sign with 2 lines of Straight Text & Chamfered Edge



Buy Now
300mm x 200mm -

£159

C
400mm x 265mm -

£205

D
500mm x 335mm -

£310

G



STSR2 - Arch Top Sign with Scroll,
2 lines of Straight Text & Inset Border

Buy Now
300mm x 200mm -

£177

C
350mm x 235mm -

£196

C
350mm x 250mm -

£213

C
400mm x 265mm -

£244

D
450mm x 300mm -

£255

D
500mm x 335mm -

£311

D
600mm x 400mm -

£435

H
800mm x 530mm -

£752

H


STSR5 - Arch Top Sign with Scroll,
1 line of Straight Text & Inset Border

Buy Now
300mm x 200mm -

£177

C
350mm x 235mm -

£196

C
350mm x 250mm -

£213

C
400mm x 265mm -

£244

D
450mm x 300mm -

£255

D
500mm x 335mm -

£311

D
600mm x 400mm -

£435

H
800mm x 530mm -

£752

H


Specials



It is often possible to create bespoke
designs or sizes.


You can also have more lines of text
on some of the larger cast signs
Please email us for a quote.
ds.signmaker@gmail.com

The letter after the price denotes the P&P Rates
Lettering

The two fonts used for these signs are Times New Roman and Franklin Gothic.
The standard letter colours are White, Black, Gold and Silver, although other colours are available @ £2.50.
Borders

Can be painted the same colour as the lettering or left unpainted if prefered.
Holes

The sign can be left without holes to mount with an exterior adhesive.
Alternatively holes can be drilled and matching domed head screws supplied @ £2.50
Background Colours

There are eighteen standard raised motifs each of which is hand painted. You can change the colours as you want. In addition the artist can paint extra details around the motif, as per your instructions, making the design absolutely unique. Cost of extra painting - £8

Alternatively you can choose not to have a raised motif at all and just have a design of your choice painted onto the flat plate - £8




The Bluebell Cottage sign on the right was created by painting extra flowers around this cast motif.


Click here to see the Standard Cast Motifs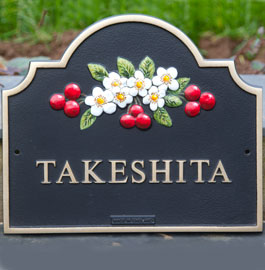 Place your Order
Use the Online Shop


Its easy to order online. Pay by Card, Cheque or by Online Banking BACs

By phone - 01769 561355
Monday - Friday 9.00am - 4.45pm
By email - sales.signmaker@gmail.com
Design Your Own Sign
.You create the design - we send you a quote
Easy Pay Tell us what you want - we will send you the price with an Easy Pay link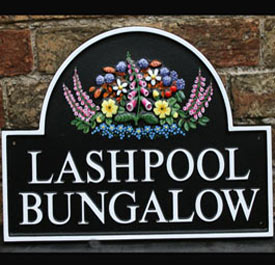 Most of our signs are sent by courier and a signature will be needed. We can send the parcel to your works address..

Didn't find what you were looking for?
Click on full colour
Site Map
or use search bar above.
Made in the UK. Our team at The Sign Maker looks forward to helping you with your hand painted cast house sign.