Low Cost House Number Signs - Engraved Acrylic Laminate


Site Search
Maintenance free
These low cost house number signs are ideal for outdoor or indoor use. They are made from 2 ply 3mm acrylic which is weather proof and UV resistant. The door numbers are engraved through the first layer of laminate to show the colour underneath. They can be personalised to your own design and font, use images or extra words.


White laminate with black lettering, oval border, font - Romax

White laminate with black lettering, square border with indent corners, font - Basknor and basknor outline
Borders can used as required and these are included in the cost. You can also have extra words engraved or use decorative motive or picture for an additional £3.75
The Engraved House Numbers are available in the following colours
| | |
| --- | --- |
| Gold Surface / Black Letters | Silver Surface / Black Letters |
| Blue Surface / White Letters | Cream Surface / Brown Letters |
| White Surface / Black Letters | Yellow Surface / Black Letters |
| Red Surface / White Letters | Bright Green Surface / White Letters |
| Teal Green Surface / White Letters | Brass Effect / Black Letters |
| Steel Effect / Black Letters | Copper Effect / Black Letters |
| White Surface / Red Letters | White Surface / Blue Letters |
Available in a wide range of
fonts
Click here to see an our decorative motifs & pictures
Prices include up to 4 numbers
For additional text or a picture please add £7.50
Can be cut to simple shapes @ £2.75

Holes can be drilled if required at no extra cost or you can use one of the many adhesives that there are now available.


Laminate House Numbers Prices

Size

Orientation

Cost


2" x 3" (50 x75mm)

portrait

£10.45

3" x 2" (75 x50mm)

landscape

£13.15

3" x 3" (75 x75mm)

£15.70

3" x 4" (75 x100mm)

portrait

£15.70

4" x 3" (100 x75mm)

landscape

£15.70


4" x4" (100 x100mm)

£16.75

5" x 5" (125 x125mm)

£20.95


Postage & Packing - Band (A)
---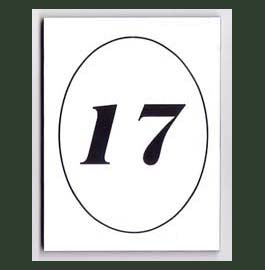 Place your Order
Use the Online Shop


Its easy to order online. Pay by Card, Cheque Online Banking or via Amazon

By phone - 01769 561355 / 561314
Monday - Friday 9.00am - 4.30pm
By email - sales@sign-maker.net
Print an Order Form
Use the Secure Payment Line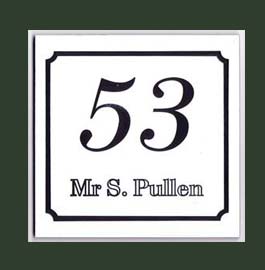 Most of our signs are sent by courier and a signature will be needed. If it helps, we can send the parcel to your works address..

Didn't find what you were looking for?
Click on full colour
Site Map
or use search bar above
Our team at The Sign Maker looks forward to helping you with yourengraved house number sign.