Beautiful Engraved Plaques with Raised Letters - Ideal for Memorial Plaques, Information Signs and House Signs


Site Search
Engraved Signs and Plaques with Raised Letters

Corian is a mixture of stone dust, resin with some added pigment. It looks and feels much like stone. However it can be used for plaques and signs where smaller lettering or finer details are required.

Corian is a tough material - it is hard wearing, weatherproof and does not fade, rust or rot. It is also virtually maintenance free.

As well as engraving into the corian we are also able to laser away the background leaving the letters raised. This looks similar in many ways to the cast bronze signage but is considerable cheaper.

On the finished sign or plaque, the raised letters are polished whereas the background has a rough matt finish. It is this contrast which makes the lettering stand out.

12mm Corian Colours
please note - colours can look different on different monitors

| | | | | | | | |
| --- | --- | --- | --- | --- | --- | --- | --- |
| | | Black Quartz | Slate | Antracite | Mahogany | Silt | Stone Washed |
12mm
thick

4"
100mm

6"
150mm

9"
225mm

12"
300mm

16 "
400mm

18"
450mm

24"
600mm

30"
750mm

100mm

£49.57
£60.15
£88.50
£104.36
£134.74
£145.31
£177.05
£208.78

150mm

£60.15
£73.71
£106.54
£126.88
£163.22
£176.79
£217.48
£258.17

225mm

£88.50
£106.54
£133.60
£160.66
£205.96
£224.00
£278.12
£332.24

300mm

£104.36
£126.88
£160.66
£194.44
£248.69
£271.21
£338.76
£406.31

375mm

£129.45
£156.44
£196.94
£237.43
£291.42
£318.42
£399.40
£480.39
450mm
£145.31
£176.79
£224.00
£271.21
£334.15
£365.63
£460.04
£554.46
Order Online Now for Fastest delivery
Prices include 30 characters. Extra letters £4.00 per 30, Letters are sized to fit the plaque.
Letters
We have a huge amount of fonts to choose from. For signs with raised letters it is usually best to choose a bolder font without very fine lines

You choose the size of your plaque or sign and we will size the letters accordingly. We can send you a proof.

The minium letter size is 6mm
Images and Borders
We can include raised images or borders on the plaque. We have a selection of standard images CLICK HERE - the cost for one of these is £12.50.

If you want us to use you own artwork it must be a clean silhouette style image (no fine lines or shading) sent as jpg, giff, tiff or png file. There is a £34.50 artwork charge.

If you can send your artwork in as an AI or vectorised EPS file for a PC created on Adobe Illustrator or Corel Draw we can reduce the artwork charge to £24.50.


Add Some Colour
Although these signs or plaques are normally made without any paint fill we can add some colour. It can be very effective indeed. The gull on the sign below was first engraved then paint filled in white. The sign was then put into a laser to burn away the background to leave the lettering raised. It requires three sessions in the laser to remove the background material and this process is time consuming taking hours for the larger signs. The sign below just has had one pass through the laser.

To add paint fill the cost is £7.50 per colour.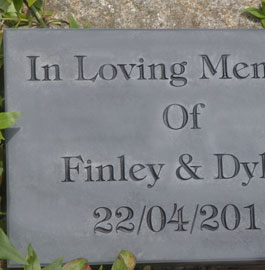 Place your Order
Use the Online Shop


Its easy to order online. Pay by Card, Cheque or Online Banking

Signs - 01769 561355
Memorials - 01769 618585
Wheel Covers - 01769 561314


By email - sales@sign-maker.net
Design Your Own Sign / Plaque
.You create the design - we send you a quote
Easy Pay Tell us what you want - we will send you the price with an Easy Pay link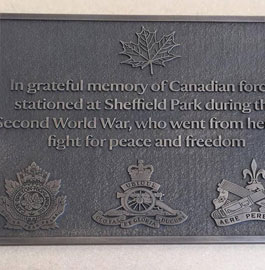 Most of our signs are sent by courier and a signature will be needed. We can send the parcel to your works address.

Didn't find what you were looking for?
Click on full colour
Site Map
or use search bar above.
Made in the UK. Our team at The Sign Maker looks forward to helping you with your engraved sign with raised letters.
.