Slate Memorials
Although we make hundreds of these smaller memorial plaques every year, we take great care to make sure your slate memorial is made just the way you want it. These plaques have a timeless quality and are usually made with unpainted lettering, sandblasted into the slate. However we can paint the letters as long as they are 25mm high or blast the background away leaving the letters raised. The choice is yours.
SIZES
For smaller memorial plaques we normally use slate which is between 10mm and 12mm thick. This can be cut to any size. If you want your slate memorial on thicker slate (20mm, 30mm or 50mm) CLICK HERE.
| | |
| --- | --- |
| 6" x 8" Raised and unpainted letters font Comic Sans | 300mm x 300mm Font - Black Chancery Painted Gold |
The price includes first 6 characters. The next 20 letters will cost £1.10 per letter, thereafter 55p per letter.
Painted letter size minimum 25mm. Smaller letters, down to 15mm are possible if a simple font is used.
The actual stones looked far better than these photographs!
Slate Wedges
These are normally placed directly on the ground.

The back of the wedge is 100mm high and the front is 50mm high.

We also have Granite Wedges available.



Actual
Width x Heigh

t

Surface
Width x Height
Price
P&P
200 x 250mm
204 x 250
Portrait
£89
J
250 x 200mm
250 x 204
Landscape
£89
J
300 x 300mm
300 x 304mm
£148
L
300 x 375mm
304 x 375
Portrait
£169
M
375 x 300mm
375 x 304
Landscape
£169
M
Price includes 25 letters Extra Letters 55p
For best prices order online Now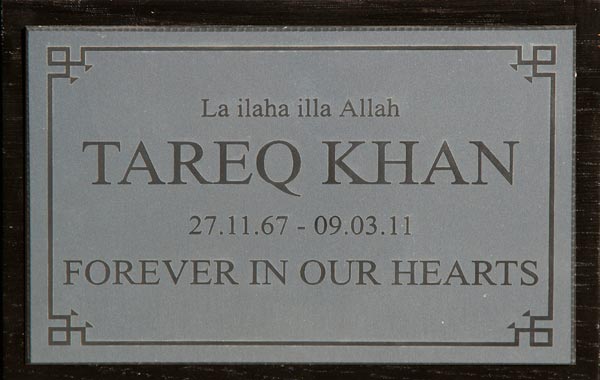 Raised and unpainted letters - border 07 - font Times Roman
BORDERS
We can add a line border with indented or square corners at a cost of £6.95. Another interesting technique is the border in relief where the slate around the outside of the sign is blasted away leaving the required shape in the middle. The cost of a border in relief is £8.95. Decorative borders also available - the cost is £10.95. The prices shown are for signs with a circumference of less than 1500mm

PICTURES
We can include simple pictures on the memorial. We have a selection CLICK HERE - or you can send in your own artwork - It must be a silhouette style image without any very fine lines or shades. The cost is £7.50 per standard image. Another option is to add a full colour porcelain photo.
LETTERS
The letters are normally painted black, cream, silver, gold, white or left unpainted. For a more gentle natural effect we match Farrow & Ball Lichen - a pale green which looks lovely against the grey slate. Another natural look is F&B Purbeck Stone which is a very light grey. For other paint colours - click here. For a selection of fonts - Click here Letter size is normally adjusted to suit the size of the slate ordered, but if you have something particular in mind - just let us know .
Minimum letter size - Engraved - 15mm if you choose a simple font., Raised and unpainted - 25mm
For help with choosing your sign size you can use our sign sizing and layout tool
If smaller letters are require we suggest you use slate corian - click here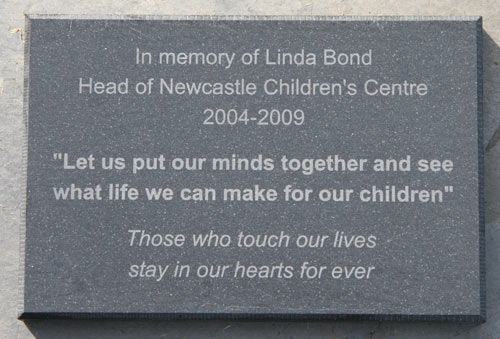 On the dark slate corian we can laser engrave small letters leaving them unpainted.
This can also be used for images with fine detail
Place your Order

Online Shopping Cart
Its cheaper to order online. Pay by Online Banking, Card, Cheque, Amazon, Klarna
By phone - 01769 561355
Monday - Friday 9.30am - 4pm
By email - sales@sign-maker.net
Print an Order Form
Use the Secure Payment Line