Wooden Memorial Plaques
Our wooden plaques are very elegant and very beautiful. Plaques made from wood feel very natural and are often more appropriate to use than the rather formal engraved brass. The lettering and images are burnt into the wood using an engraving laser. To help find the right words for your memorial plaque so we have created a page of Memorial Inscriptions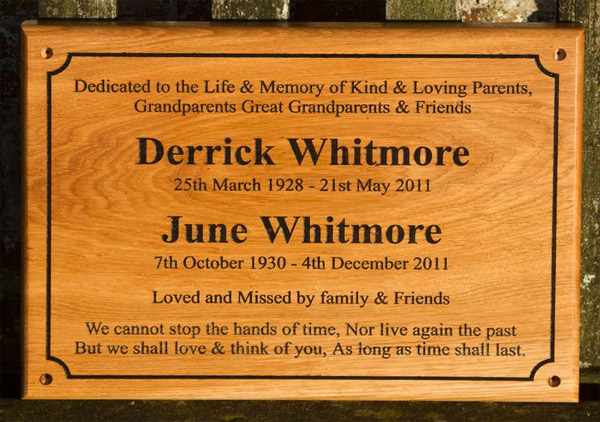 Timber - Oak. Size 420mm x 300mm, Paint Filled Black., Indented line border.
| | |
| --- | --- |
| Timber - Oak. Font - Lucida Calligraphy Italic | |
Lettering
Choose from any of the fonts listed opposite. Up to 50 characters are included in the price. We would suggest a minimum 8mm for a wooden plaque when you use our sizing and layout tool. On larger plaques you might want to consider paint fill @ £8.50

Finding the right words for a memorial plaque can be difficult, so we have put together a page of Memorial Inscriptions

Font Galad


Pictures and Borders
. Click here to see the range of images and borders. Only if you want an extra image will there be a cost of £9.50. You can also use your own image at £29.50

Timbers
The 100mm and 150mm high wooden plaques can be made in Oak, Sapele or Iroko. Oak is a very beautiful timber and exceptionally durable but does need to be maintained. Iroko has a high oil content and can be left untreated. Sapele is similar to mahogany and even harder than oak, but must still be maintained.

Tree Stakes
A variety of treestakes are available - click here. The most popular is the metal tree stake @ £29.95

Sizes
The price includes up to 50 characters (extra characters are available at £3.00 per 50) A standard border or image also included in the cost

Length
150mm
225mm
300mm
375mm
450mm
575mm
Height
50mm
£29.50
£31.80
£34.20
Maximum of 3 lines of text
75mm
£35.40
£38.90
£42.15
£45.50
£48.80
100mm
£41.30
£45.80
£49.95
£54.73
£59.20
£66.60
150mm
£45.80
£52.50
£59.20
£65.90
£72.60
£83.76
225mm
£69.95
£83.45
£95.95
£108.95
£130.20
Order Online NowPostage & Packing Costs



Use the design tool above to size and layout your wooden plaque.

At the press of a button you can
send us your design to use for an order or a quote.

Font Times New Roman Customer image. Size 225 x 150mm

Font Black Chancery Border 14. Size 300 x 200mm
Iroko Wood Memorial Plaques
Top tips for planning a more natural funeral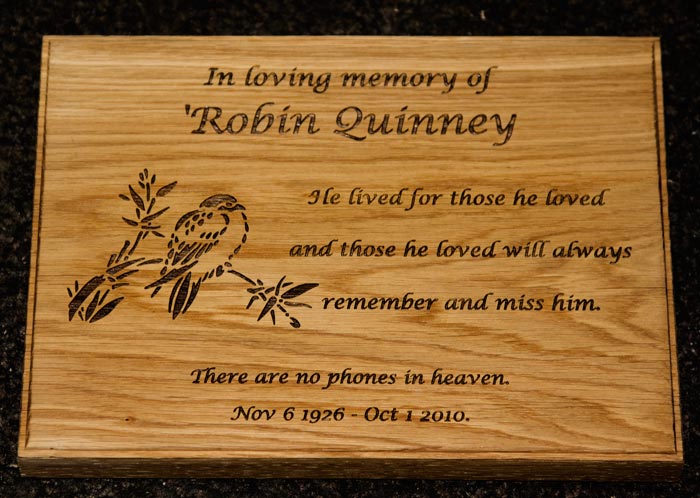 Timber - Oak Font - Lucida Calligraphy Italic Images - SD303 No Paint fill
Memorial Plaque set into Green Oak Mooring Post - Customers Own Artwork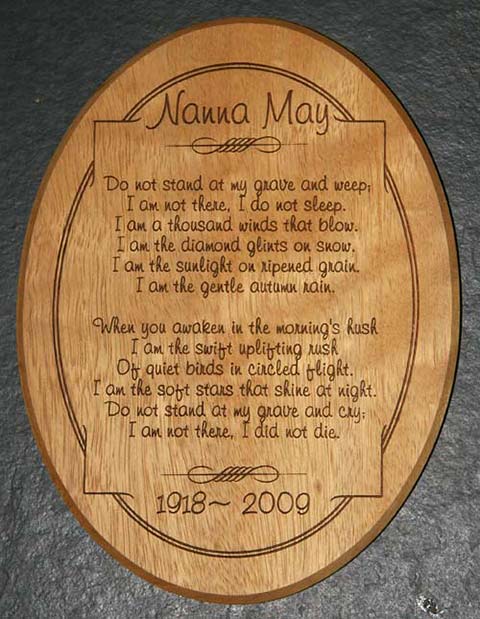 Timber - Iroko Font - Black Chancery Image - CH340 Line Border