Wooden Name Plate - Engraved Wood Signs for interior or exterior use

Site Search
Solid Wood - Engraved Signs and Name Plates

For our engraved wooden signs and name plates we can use three different types of wood - Oak, Iroko - similar to teak and Sapele - similar to mahogany. Iroko has a large oil content so can be left untreated if required. Lettering can as small as 10mm. We have a huge range of single colour images - any of which can be engraved onto these wooden signs.

The price includes up to 50 letters (extra letters @ £3.00 per 50) A standard image up to 100mm is included in the cost. Click here to see images. For larger images or your own artwork - click here
Length
150mm
225mm
300mm
375mm
450mm
575mm
Height
50mm
Width approx
12-17mm
£29.50
£31.80
£34.20
75mm
15-20mm
£35.40
£38.90
£42.15
£45.50
£48.80
100mm
18-23mm
£41.30
£45.80
£49.95
£54.73
£59.20
£66.60
150mm
18-23mm
£45.80
£52.50
£59.20
£65.90
£72.60
£83.76
225mm
23-28mm
£69.95
£83.45
£95.95
£108.95
£130.20
Discounts for Ordering Online - Order Now
Fonts

We can engrave the letters in a variety of fonts. A selection of fonts is shown below. Other fonts - Click here

The letters are engraved into the wood using a lazer which darkens the wood as it cuts out the letters. Larger letters can be painted - Click here
Click here for Engraved Wooden Rounds or Ovals Click here for metal and wooden tree stakes
---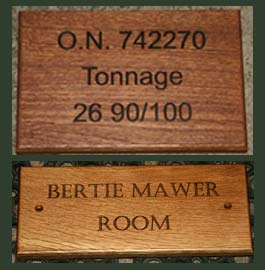 Place your Order
Online Shopping Cart


Its easy to order online. Pay by Card, Cheque Online Banking or via Amazon

By phone - 01769 561355 / 561314
Monday - Friday 9.00am - 4.30pm
By email - sales@sign-maker.net
Print an Order Form
Use the Secure Payment Line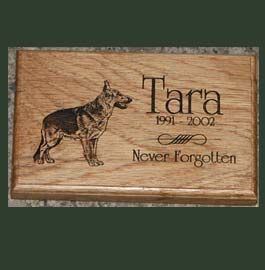 Most of our signs are sent by courier and a signature will be needed. If it helps, we can send the parcel to your works address..

Didn't find what you were looking for?
Click on full colour
Site Map
or use search bar at the top of the page
Companies who use The Sign Maker
Our team at The Sign Maker looks forward to helping you with your sign.